Directions
1. Add all ingredients except coconut oil and lecithin to blender. Blend until smooth.
2. Add the coconut oil and the ground lecithin (do not use chunky lecithin, grind it first!). Blend again until well distributed.
3. Pour liqudy raw whipped cream mixture into a bowl (or directly on top of the thing you want to eventually have whipped cream on it, example, brownies). The whipped cream will be quite runny and it needs to be refrigerated for about 8 hours in order to solidify into a more whipped creamy chunkiness.
4. The whipped cream will harden quite a bit if left in a bowl and refrigerated. So when using a bowl of whipped cream it'll come out looking like a scoop of ice cream and it's not very easy to spread.
It tastes delicious. It is to die for when eaten like ice cream on top of berries. :)
How will you enjoy your raw whipped cream?
The Rawtarian's Thoughts
This is a raw whipped cream recipe that tastes divine. However, it does not behave exactly like whipped cream because it will soften once it's out of the refrigerator. So please treat it more like ice cream (although it is kept in the refrigerator, not freezer), because it will melt so do not add it to your raw dessert until it's about to be eaten (similar to how you serve ice cream).
Lecithin is important in this recipe. It will help solidify the recipe. You can use sunflower lecithin or soy lecithin or another vegan type of lecithin. Lecithin can be purchased at health food stores or bulk food retailers (or online, of course). It's usually in granular form. If so, you'll need to grind it up into a powder using a coffee grinder.
Lemon juice is also important. Do not omit. Actually, everything is important in this recipe. Just make it how I say, okay? :)
Related Podcasts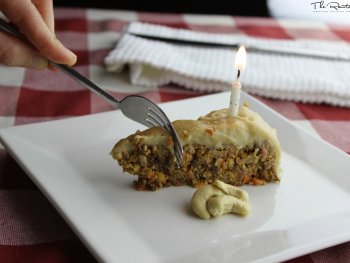 Update Required
To play the media you will need to either update your browser to a recent version or update your
Flash plugin
.
5
Images
Your raw recipe package has been sent to your email
Be sure to check your spam or bulk mail folders if you can't find your package. Enjoy your raw adventure!