It's Father's Day! What is dad's favorite dessert? One of these simple raw desserts will surely satisfy his sweet tooth! If he likes creamy desserts, try the raw cheesecake or the raw banana cream pie. For simpler fare, whip up raw apple pie or raw carrot refrigerator cake. Whatever you decide to make, you can be sure it will be a big hit with the dad in your life!
And if dad isn't into "raw food"? Don't tell him! What he doesn't know won't hurt him :)
My own Dad lives across the country and I won't be able to serve him any raw delights tonight. And my husband and I don't have children so we have no specific reason to enjoy an extra fun dessert tonight. But... I like any reason to make raw sweets! I mean, why not - right?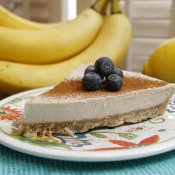 – You can't beat this delicious and simple raw dessert. So very smooth and creamy, yet easy to make, this raw banana cream pie will impress your dad! (Everyone wants seconds of this one, so if serving for a large group you may want to double it.)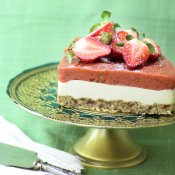 - Here is a simple raw dessert that even your non-raw dad will love! This rich and delicious raw cheesecake tastes just like the real thing, try it and see. Really!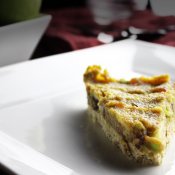 – Here is a great simple raw dessert for the dads who love apple pie. While not a 'fancy' dessert, this raw apple pie is both flavourful and filling, and can be made up to a week before dad's special day! If my dad was here, I'd make him this one because he loves apple pie. Oh pop, wish I lived closer to you!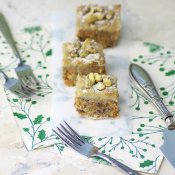 – Who doesn't love carrot cake? This simple raw dessert surprisingly has the texture and taste of cooked carrot cake, and keeps well in the fridge for several days. Great for leftovers. Surprise your pop with this raw carrot refrigerator cake!
Will you be making a simple raw dessert recipe for the pop in your life this Father's Day?