Directions
1. Grate carrots either by hand or in a food processor with a grating attachment. Place into a huge bowl and set aside.
2. Process pecans in an empty food processor. Process into a fine meal.
3. Add dates to pecans in food processor and process again until well mixed. Add coconut and process again.
4. Remove mixture from food processor and add mixture to the big bowl that contains the carrots.
5. Add all remaining ingredients to the big bowl and stir until very well mixed.
6. Line three dehydrator trays with parchment paper.
7. Take raw carrot cake batter and with your hands shape into individual small slices of cake about ¾ of an inch thick, 3 inches wide and 5 inches long, like a hashbrown shape or into little circles like the photo. Plop slices/rounds of individual-sized cake portions onto parchment paper. (Do not make a big loaf, it will not dehydrate properly. You must shape individual slices!)
8. Dehydrate on high for 1.5 hours. Reduce heat and dehydrate for another 10 hours or until your desired consistency is reached. I like them to be crisp on the outside, mostly dry but still a bit moist on the inside. Store in refrigerator when ready.
When you're ready to eat, just spread some refrigerated raw cream cheese icing onto a slice of this raw carrot cake recipe and eat immediately. And smile!
The Rawtarian's Thoughts
Raw carrot cake recipes are another gem that eluded me until I'd been raw for about two four years or so. But now I love to make them because the taste takes me right back to my childhood since carrot cake was a big treat in our household.
This raw carrot cake recipe does require dehydrating, but it's still simple to make. You don't have to make icing either, although it does taste better with raw cream cheese icing on it. (Like, duh! What doesn't taste better with icing on it, right??! I mean, seriously.)
And with my 30th birthday coming up, it makes sense to get into raw cake mode with this raw carrot cake recipe!
Big thanks to Dee whose request inspired me to post this recipe with her comments on my raw cheesecake recipe.
Related Podcasts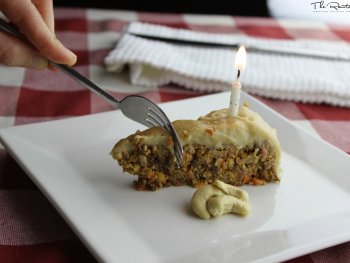 Update Required
To play the media you will need to either update your browser to a recent version or update your
Flash plugin
.
4
Images
Your raw recipe package has been sent to your email
Be sure to check your spam or bulk mail folders if you can't find your package. Enjoy your raw adventure!