Ahh, I just spent the afternoon hitting the trails with my dog, Elgar. I am blessed to live in a rural area filled with field and forest. So I take every opportunity to get out there and enjoy - especially with winter coming on! Not only do I benefit, but it makes the dog happy, too!
Out and about with Elgar
Getting outside in the fresh air soothes my soul and I know it's good for me! And the best thing about my dog is that I don't have a choice - I HAVE to go. Even if I'm too busy or too stressed or too tired. Doesn't matter. The dog must be walked! So out I go.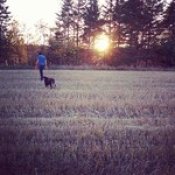 And as always, after a few minutes, I release it all and just breathe. How can I feel anything but joy as I watch Elgar charge ahead of me with 100% exuberance? He checks out every bush and tree. No squirrel goes unchased. Water is meant to be splashed through.
As I walk, I can feel myself relax. I find myself tuning in to the natural world around me. Bird song, a squirrel chattering, Elgar's panting as he returns for a quick visit and charges off again. My eyes take in every nuance of life as I walk along. After a few minutes, I pick up the pace. I like to get my heart-rate up for a good 15 minutes, at the least. The dog seems to never stop running. He pretty much runs the entire time, and then flops down exhausted as soon as he steps back inside. His philosophy is "Why walk when I can run?"
Walkin' the dog is...
Good for the body
Soothing to the soul
Great for the dog
A whole lotta fun!
What would you add to the list?
Walk out that door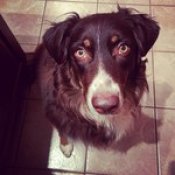 Is your doggie pal is gazing at you right now, willing you to take him/her out for a walk? Then what are you waiting for? And if you don't have a canine in your life, then grab a friend, or a friend's dog, or better yet... both! Don't forget your husband, wife or kids, either! Or by yourself? Even better!
Get outside and have some fun and reconnect with your soul. Exercise that rekindles your connection with your self is the very best kind.