Perfect for a beginner or if you're looking for a fresh start, "The Raw Food Diet Plan" guides you through your first 30 days as a raw fooder. The program includes meal plans, shopping lists, The Rawtarian's recipe ebook, "The Rawtarian's Raw Staples Recipe Book" and more. (Dehydrator not required.)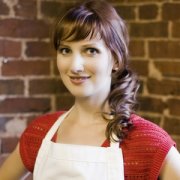 Hi! Laura-Jane The Rawtarian here... I'm so glad we've found each other!
Luckily, somehow, somewhere, you've heard a genuine, real-life story about how eating raw food has changed lives--maybe you've even heard my story! Now you're ready to finally become one of those so-called "naturally" slim people who radiate good health, energy and natural beauty that is attainable when you feed your body what it truly wants: real fruits, vegetables, nuts and seeds. Just like nature intended!
Testimonial
"I am newly a raw food/juicing person, and I have learned so very much from your website. I am using raw foods to combat an illness, and I'm happy to say that for the last 30 days, I haven't taken ANY of my medicines that I used to take. I am 37 years old and have been walking with a cane and have very limited mobility since the progression of this illness. Four years ago, I ran multiple marathons each year. On a raw food diet, I have been pain-free and dropped 31 pounds."
Little do most people know that you, yes you, can be "naturally skinny" if you eat a very high raw diet of uncooked vegetables, fruits, nuts and seeds. Please thank your lucky stars that you've been introduced to this real-life body saver. No calorie counting, no hunger pains, no restrictions. Just pure fresh, raw fruits, vegetables, nuts and seeds in the form of delicious recipes, like raw brownies, raw alfredo sauce with zucchini noodles, raw tacos and more.
You're here because you are already convinced of the benefits of the raw food diet. You don't need me to tell you that by eating a high or 100% raw food diet you'll feel better, lose weight, have more energy, clearer skin and all kinds of other amazing benefits that come with following the raw food lifestyle, especially the benefit of retraining your taste-buds to crave healthy foods (imagine that!). And trust me, I get emails every day from people who have been transformed through raw foods.
So what is the The Raw Food Diet Plan? It's a program that guides you through a 30 day journey into raw foods and provides you with detailed meal plans and raw food recipes for every meal of the day for 30 days.
WILL THE RAW FOOD DIET PLAN WORK FOR YOU?
The Raw Food Diet Plan does not contain secrets. In fact, over the years I have given away almost everything that I know for free because I am that passionate about the transformational power of raw foods! What The Raw Food Diet Plan does give you is a detailed, step-by-step plan covering everything you need to know and do for your first 30 days as a raw fooder. Why is obtaining your copy of The Raw Food Diet Plan important? Because it gives you a plan to follow. The Raw Food Diet Plan will be your "raw bible" for the first 30 days of your new raw life.
If you're a busy parent, working a full-time job (or maybe both!), you can still be successful with raw food when following The Raw Food Diet Plan in The Rawtarian's Kitchen. By all means, you can try to go it alone without a structured plan, and many people do. But some of you will really appreciate having a raw food diet plan to go by. Most of all, following a plan removes a lot of the guess work and mystery. Really, raw foods doesn't have to be overwhelming!
Specifically, people who benefit the most from The Raw Food Diet Plan have many of the following traits:
You enjoy making lists
You have many time commitments that mean you're always on the go
You're looking for simple recipes that are easy to make and satisfying to eat
You enjoy keeping an organized home
You have the ability to follow clear directions
You have above-average education
You dislike chaos
You enjoy planning vacations or family get-togethers
You are more interested in eating raw food that tastes good and is easy to prepare (rather than raw food that looks or sounds gourmet)
You are busy during the day
If the above characteristics are ringing bells with you and you are ready to get serious about transforming your body with raw foods, then continue reading below.
THE RAW FOOD DIET PLAN DOESN'T WASTE SPACE AND DOESN'T CONTAIN GENERAL INFO
Testimonial
"I'm the woman who used your recipe book to go raw. I did the full 30 day transition which was wonderful and delicious. I'm back to eating some cooked foods again, but have kept a lot of your recipes in my regular repertoire and feel great!"
You don't need a long list of benefits and you don't need to hear how good you'll feel because you already understand the power of what raw foods can do for your body and mind. What you do need is a raw food diet plan that will fit into your busy lifestyle and will break down the raw food diet into easy-to-follow steps to ensure your success as a raw fooder.
Before listing what's in The Raw Food Diet Plan, even more importantly, here's what's not in The Raw Food Diet Plan. You won't find any nutritional information, health education nor any health reasons regarding why to go raw. As mentioned above, you're already convinced that raw food is the answer! So there's no wasted space dedicated to any of these subjects.
Testimonial
"Now on day 32, blood sugar halved and stable, and 5 kilos lighter, I find myself unwilling to go back to what I originally thought was a healthy diet. I am going to have to find some kind of compromise. Haven't missed bread, meat, milk, sugar, fat. Have missed fish, hard cheese and eggs. I've very much enjoyed most of your recipes, thank you!"
Even before you successfully complete your 30 days as a raw foodist, you'll start noticing changes in your body and mind--and even in your taste-buds. But I won't kid you, going raw is tough because you're transforming the entire way that you approach and consume food. Successful raw foodists follow a plan that helps them burn through the common new-to-raw obstacles. The good news is that once you make it through your first 30 days through The Raw Food Diet Plan, you'll feel great, look even better and you'll have an appreciation for how to incorporate delicious, healthful raw foods into your life -- from raw brownies to raw alfredo and veggie noodles.
THE RAW FOOD DIET PLAN EXPLAINED
Instead of wasting space with general information that's difficult to implement, The Raw Food Diet Plan is a comprehensive, day-by-day and meal-by-meal plan that you can implement right away in order for your body and energy to see the quickest and most profound results.
The Raw Food Diet Plan is structured to guide you through your first 30 days as a 100%, returning, or very high raw foodist.
The Raw Food Diet Plan Contains:
Starter Kit:
A 20-page starter kit detailing what to expect, what you will need and how to prepare for the raw food diet
Comprehensive Starter Shopping List:
A starter shopping list to prepare your pantry for the raw food diet
Four Detailed Weekly Shopping Lists:
Weekly shopping lists that contain unique combinations of fruits, vegetables, nuts and seeds available at your local grocery store
Four Weekly Meal Plans:
Four weekly day-by-day meal plans including breakfasts, lunches, dinners, smoothies and snacks for every day of the week times four!
The Rawtarian's Raw Staples Recipe Book:
Testimonial
"Your recipes have given me my ability to enjoy food back. I've had digestion issues as long as I can remember, but it wasn't enough to change my eating habits. Recently, though, I started to become ill from anything with gluten, dairy, or processed sugar. Growing up knowing only recipes with these ingredients, I was sure I was doomed to eat nothing but fruit, veggies, and soy. Looking for recipes that would be safe for me I stumbled upon your website. Your recipes have opened up a whole world of foods I can enjoy without the painful side effects (not to mention the guilt from all the fat and sugar I was consuming). Thank you."
You will also get the Rawtarian's Raw Staples Recipe Book (written by me!), which contains 40 of the simplest and most satisfying raw food recipes, including breakfasts, lunches, dinner, smoothies and snacks such as raw oatmeal, raw alfredo sauce, raw cashew milk, raw cereal, raw tacos, raw pudding, raw macaroni and cheese, raw raspberry crumble, and much more. The weekly meal plans are based on many of The Rawtarian's recipes, which are found in this book.
The Raw Food Diet Plan is available as part of The Rawtarian's Kitchen right now and it includes the five sections outlined above: the starter kit, the comprehensive starter shopping list, four detailed weekly shopping lists, four weekly meal plans and the special bonus, The Rawtarian's Raw Staples Recipe Book.
And don't worry, of course, my risk free 30-day money back guarantee applies.
As a raw food educator and raw personality, I am committed to your satisfaction with The Raw Food Diet Plan and The Rawtarian's Kitchen. If you are unsatisfied with The Raw Food Diet Plan for any reason I will return %100 of your investment. You really have nothing to lose! I personally guarantee that any requests for refunds within 30 days of purchase will be honored. So why not check out The Raw Food Diet Plan right now? You've got absolutely nothing to lose and a whole new life, body and spirit to gain.
Start your new life today and join The Rawtarian's Kitchen now.
Warmth,

Author of The Rawtarian's Raw Staples Recipe Book
PS: It can be tempting to put off the decision to go raw. Maybe you'll do it tomorrow, or maybe you'll go raw when you have more time. The truth is, the time to go raw is now. You want to change the way you feel and look. The fact that you're here is a testament to how close you are to making real change in your life. But even though you've come this far, there are no results without action. Are you ready to look in the mirror and look and feel like the real you? If so, then get started today with The Raw Food Diet Plan by clicking the button below now and joining The Rawtarian's Kitchen.
PPS: And with the 30-day no-questions-asked 100% money back guarantee, you've got nothing to lose and a whole new life to gain. Start the next, better phase of your life now.
Add To Cart