Raw vegan tuna and mayo combo
Directions
1. Throw walnuts and cashews into bowl. Cover with lukewarm water. Let soak for at least 1/2 hour. Discard water. Rinse well. Drain.
You should now have some slightly wet nuts. Pat them dry with a clean tea towel. The purpose of soaking/rinsing is to soften the nuts and remove the enzyme inhibitors, which have a bitter taste. This recipe is a little more moist than some nut pates, so be sure not to be sloppy and add too much nut water.
2. Place all ingredients in your food processor. (Do not use your blender for this.)
3. Process until very well processed, like in the above photo. You will need to stop every so often and scrape the sides of your food processor. You'll know you're done when the consistency is like the above photo.
4. Once well blended, consume immediately. Store leftovers in the fridge.
The Rawtarian's Thoughts
Raw vegan tuna and mayo combination. I know, sounds like nothing special, right? There are a gajillion raw vegan tuna and mayo combos out there, right?
Well, this raw vegan tuna recipe is different. Let me tell you why.
Before I went raw I was a vegetarian who also ate seafood. My one weakness as a seafood-eating vegetarian was tuna--especially tuna subs from Subway. In fact, tuna subs have been the #1 thing that I miss most about my old standard American diet!
Lately for some reason I have been really craving a tuna sub. Over the past couple of weeks I've spent a long time thinking about what makes the tuna from Subway so darn delicious, and I have finally come up with my raw vegan tuna and mayo combo that I think rivals Subway's tuna recipe.
What I like about this recipe that I've created is that it really tastes like it's got tuna (salty) and mayo (fatty/oily) all rolled up into one creamy, filling spread.
This recipe is pretty heavy and full of lots of fats and salts, from the coconut butter, nuts, Braggs and nutritional yeast. You'll find that you feel quite full after eating just a bit of this raw vegan tuna and mayo combo. Although this raw vegan tuna and mayo concoction is really easy to make, I don't think I'll be making it very often because it is pretty unhealthy--well, unhealthy as far as raw vegan meals go! But it sure is nice to have something I can turn to when I am really craving those tuna subs!
Serving suggestions: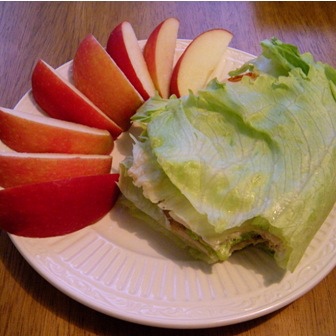 To take this raw vegan tuna and mayo combo one step further and to make it really like a tuna sub from Subway, I felt that it really needed to be combined with iceberg lettuce. I don't actually normally keep iceberg lettuce on hand, but the taste of this recipe called for it so much that I ran out to the grocery store and got some iceberg lettuce just for the occasion!
I then prepared little tuna sub sandwiches, similar to this photo.
In order to make "tuna subs" (lol) I simply spread a generous amount of the tuna/mayo spread on iceberg lettuce, topped with thinly sliced tomato and a few sprouts, and then ate.
Images
Your raw recipe package has been sent to your email
Be sure to check your spam or bulk mail folders if you can't find your package. Enjoy your raw adventure!