My first cookbook "Cook Lively!" is now in stores and online!
Available for purchase at Amazon, Barnes & Noble, Chapters Indigo, Waterstones, Booktopia, iTunes.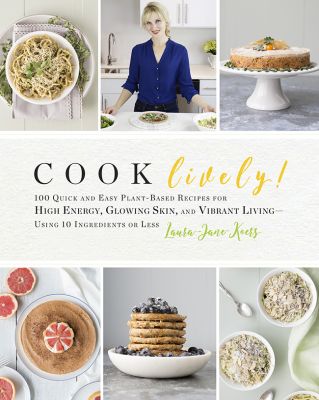 It's official... My first cookbook "Cook Lively!" is now in stores!
Get your copy of "Cook Lively!" now in stores and online.
Laura-Jane The Rawtarian here! I've been sharing my simple, satisfying vegan recipes with you since 2009, and, finally, 8 years later, I've compiled some of my favorite (but mostly new) recipes into a real live print book, with my supportive publisher Da Capo Press, who've published many best-selling vegan books from the likes of Ani Phyo, Gena Hamshaw, Brendan Brazier, Isa Chandra Moskowitz and more.
My book "Cook Lively!" is brimming with over 100 new full-color photos, over 100 easy recipes with 10 ingredients or less, lots of tips and tricks, a meal plan, a grain guide, an ingredients guide, my personal story, and shopping lists.
While the book does include some of my most popular recipes, like chocolate brownies and alfredo pasta, the majority of the 100+ recipes are brand new and have never been featured on my blog, in The Rawtarian's Kitchen, or anywhere else.
This is a practical book for anyone who wants to eat better. The recipes are vegan, gluten-free and raw-inspired, but I've added unique twists that make the recipes approachable for anyone and more than just a typical "raw" book. First, there are both dehydrator and oven directions, so no dehydrator is required to make any of the recipes. Plus, I've included a few additional healthful ingredients, like beans and some cooked grains, to push the raw envelope while still staying true to the nutritional principles behind raw eating.
It took me over a year to develop the recipes and do the photography for the book, and I couldn't be prouder of the creative output that came from my heart, mind, and humble kitchen. It would be my honor for you to purchase this book and allow me to join you in your kitchen.
Where To Buy
Additionally, "Cook Lively!" can also be found at iTunes, Hive (UK), Angus Robertson (Australia).
What's inside?
Fresh, raw plant foods are the key to vibrant health, glowing skin, and high energy. But many raw and vegan recipes require trips to specialty stores and long hours in the kitchen; Laura–Jane Koers is on a quest to create amazing recipes using staple ingredients that can be found all year round and might already be in your kitchen. (Think bananas, apples, carrots, celery, and onions— no need to make a special trip for fresh coconut and celeriac.)
Laura-Jane is known for her easy and accessible plant–based cuisine on her blog TheRawtarian.com. In "Cook Lively!", she shares satisfying recipes to whip up healthy meals with as few ingredients and prep as possible. "Cook Lively!" is the go-to cookbook when you're hungry for something wholesome, delicious, and quick.
Thank you so much for your continued support, and I can't wait for "Cook Lively!" to be on your kitchen shelf. "Cook Lovely!" is now available in stores and online!
Get "Cook Lively!" now.