Lunch today:

Raw Chili
Raw Bread - Moist Spongy Loaves
Raw Fiesta Salad
Raw Red Pepper Dressing
Today's lunch menu is all about flavor, people! If your lunches have been a little 'meh' lately, here's some inspiration. It's time to wake those tastebuds up!
Start off with a bowl of fiery chili accompanied by some oh-so-delectable raw bread (yes, there is such a thing!). Next up: salad! Treat yourself to a colourful Fiesta salad, or toss a green salad with a red pepper dressing for maximum 'yum' factor!
Raw Chili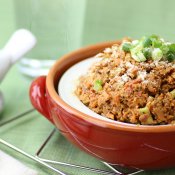 This hearty Raw Chili packs a flavor punch. The surprise ingredient: walnuts! Tomatoes, celery and carrots (and chili powder, of course!) also feature in this must-try recipe.
If you used to love chili in the 'old' days, you'll adore this raw vegan alternative!
Raw Bread - Moist Spongy Loaves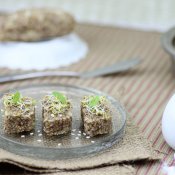 Thinking you need a chunk of fresh bread to go with that chili? Well, this Moist Spongy Loaves recipe has come to your rescue! Soft, supple and scrumptious, and no, I'm not exaggerating!
Psyllium husk is what gives this bread its spongy texture.
Raw Fiesta Salad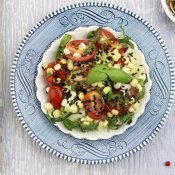 Summer is the best time to enjoy this colorful Raw Fiesta Salad. Fresh corn is what makes this salad pop, along with cherry tomatoes, onions and basil.
To easily remove corn niblets: remove outer husk, snap corn cob in half with your hands, place vertically on cutting board and slice downwards.
Raw Red Pepper Dressing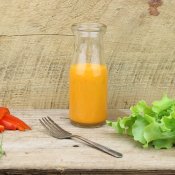 If you want to add some zip to your big ol' green salad, check out this Raw Red Pepper Dressing. This nut-free dressing is simple to make and subtly tangy.
Fresh ginger adds pizzazz but is optional.
Lunch-time, here we come!
You don't have to hit a restaurant to eat scrumptious, snazzy meals like this. With these simple recipes, you can jazz up lunch time like a pro. It's good to rock the raw lunch boat on occasion, don't you think?