Get The Rawtarian's Raw Meal Plans app right now. These simple raw meal plans will simplify raw food and help you be the new raw you starting now!
The official Rawtarian Raw Meal Plans app guides you through each day easily. No browsing, no decision-making and no need to choose recipes. Just start your plan and let me guide you through each raw day, meal-by-meal. Simple and delicious! App contains 6 separate weekly or monthly raw food meal plans, including simple, satisfying raw recipes for breakfast, snacks, lunch, dinner and dessert. Meal plans include 150+ simple, satisfying raw food recipes, shopping lists, photographs of each recipe, comments, and more. The recipes in each meal plan are well-explained and simple to prepare. Only no-fail raw recipes in these simple raw meal plans!
Raw Meal Plans Included in This App:
7-Day Raw Smoothie Challenge
7-Day Raw Challenge for Beginners
7-Day Raw Challenge for Intermediate Raw Fooders
7-Day Raw Dehydrator Advanced Challenge
7-Day Rawkin' Challenge
28-Day Challenge for Raw Newbies
28-Day Up-The-Raw Ladder Challenge
Plus: App automatically updates and installs the latest new plans as soon as they are released by The Rawtarian!
Bonus Features:
Each meal plan contains recipes for breakfast, morning snack, lunch, afternoon snack, dinner and dessert.
Over 150 simple, satisfying raw recipes - hand-picked, the best of the best!
Handy weekly shopping lists (with checklists) to keep you organized
The ability to write your own private notes on each recipe
Full nutritional information for each recipe.
Quick search function to choose recipes by ingredient.
Use either US/Customary (cups, teaspoons, etc) or Metric measurements (grams, milliliters, etc).
Adjustable serving sizes.
Ability to browse and add comments and reviews about each raw food recipe right in the app for tips from other users to avoid mistakes.
Access your Rawtarian's Kitchen (TRK) goodies right in the app.
Watch video tutorials right in the app.
No need to make decisions or get overwhelmed
No internet access required once downloaded
App automatically updates on-the-fly with the latest Rawtarian meal plans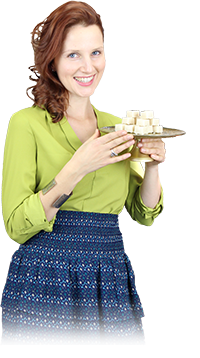 Simple raw recipes are The Rawtarian's specialty! Some of her famous raw food recipes include raw brownies, raw lemon bars, raw food veggie burgers, raw crackers, raw cheesecake, raw chocolate macaroons - and much more.
How To Get The App
The Rawtarian's Raw Meal Plans app is available for iPhone/iPad/iPod Touch and Android devices. This app can only be purchased from either the iTunes store (Apple devices) or from the Google Play market (Android devices). Click the buttons below to purchase:

Testimonial
"Awesome - this is exactly what I need. Setting this up on my iPad today and going shopping! Thank you for making the raw lifestyle more accessible!!!"
--Niki
Warmth,


Author of The Rawtarian's Raw Staples Recipe Book and Host of The Raw Food Podcast