Q. What kind of blender should you buy?
Answer: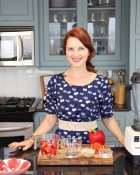 Of course, you should start with what you've got!
If buying a new blender, I always recommend an EXPENSIVE, QUALITY blender (for example, this Vitamix blender is what I use). There is a major difference between a cheap blender and a good blender. (For example, a bad blender will make gritty smoothies, but a good blender will create a smoothie so perfect and silky that you'd think you bought your smoothie at the mall!)
Check out this list of recommended appliances for details.
Now, while I recommend expensive blenders, you definitely don't need a good food processor. (You need one, you just don't need a GOOD one.)
Q. What kind of food processor should you buy?
Answer: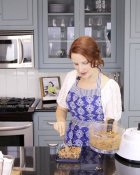 Not sure what your budget is, but if you're cheap like me here's what I recommend!
Here is the cheap food processor that I used for my first three years raw - it gets bad reviews on Amazon but it's cheap and it's the one I used daily for years! I don't have a problem recommending it, it's the Black and Decker Quick and Easy food processor.
Check out this list of recommended appliances for details.
Q. Do you really need both a blender and a food processor?
Answer: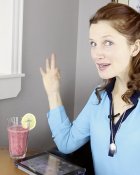 Yes, you need both. Basically, a blender is for liquidy recipes (smoothies, icing, soup, sauce) and a food processor is for dryer recipes (brownie, cake, cookie dough, etc).
Here's a free video where I explain the difference between a blender and a food processor in greater detail.
Q. What kind of dehydrator should you buy?
Answer:
If you're just starting out with raw food, you don't need a dehydrator yet. I usually recommend that you don't purchase a dehydrator unless you've already made 20 raw food recipes and you're getting bored with your raw food routine.
(The main reason to purchase a dehydrator is to make crispy, dry, savory recipes, like savory dehydrated crackers, breads, pizzas etc. Otherwise you don't need one.)
If you are going to purchase a dehydrator, here are some general principles:
8-to-10-trays are ideal, and do not get a round dehydrator because they don't circulate air properly.
Best dehydrator is the 9-tray Excalibur dehydrator, hands down. But... it is expensive!
For the budget-conscious, you can also get a Vegikiln dehydrator - they are cheaper, white, not as "reputable" but they get the job done if price is a big factor. The main difference is that this one doesn't have a door that closes all the trays in (which isn't a big deal unless you want to dehydrate taller items and have to remove trays, but you can cover the holes with aluminum foil if need be).
Check out this list of recommended appliances for details.
Q. Where can you buy blenders/food processors/chia seeds/seaweed etc?
Q. Do you have to soak nuts and seeds?
Answer: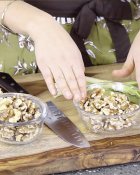 Re: nut soaking, I am not much of a soaker since it can be so time-consuming. In general, with my recipes, soaking is not required unless it is explicitly stated (as you know)--and when it is it is usually for texture. That being said, the general idea behind soaking of nuts is to two-fold: (1) easier to digest when presoaked and moist; (2) removal of enzyme inhibitors.
So… soaking is a good thing, similar to buying 100% organic produce. But sometimes it's not feasible/realistic to do either. But ideal to do both - for sure. Also, I don't like for people to get too caught up with doing everything "perfectly" because it can cause overwhelm and eventually falling off the wagon. Therefore, I recommend not soaking unless it's specifically stated in the recipe.
Here's a free video where The Rawtarian discusses nut soaking.
Q. What temperature can you dehydrate at?
Answer:
As you know, when dehydrating raw food it is important to keep the enzymes alive by dehydrating at 105 degrees Fahrenheit (40.6 degrees Celsius) or lower. However, I recommend turning your dehydrator on "high" (145 degrees) for about 1.5 hours when first putting food in the dehydrator, and then decreasing the temperature to 105 degrees after 1.5 hours or so.
I suggest this because the initial warmer temperature will help to take away a lot of the moisture at first, and the thinking is that it takes a while for your dehydrator to climb up to "high" and it also takes quite a while for the food to actually get to the temperature that the dehydrator air is at so it is still safe for raw foodists.
One of the best side-effects of setting your temperature higher at first is that it's good at getting rid of the initial moisture quite quickly. Increasing the temperature at the beginning of cooking time is common practice in the raw food community. If you are not mindful about turning the heat back down after 1.5 hours, yes, your food will be heated above 105 degrees. However, this risk is warranted. That initial heat blast can really save you a lot of time and can accelerate the dehydrating process by quite a bit, even by 50% sometimes.
For me, I do strive to live a 100% raw lifestyle; however, I also make some slight tweaks to the "rules" in order to ensure that I can stay raw over the long-term.
Q. Can you substitute one nut for another nut?
Answer: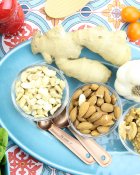 Generally, these groups of nuts can be substituted for one another:
Creamy nuts: cashews, macadamia nuts, pine nuts, etc.
Flour-like nuts: almonds, sunflower seeds, hazelnuts, pumpkin seeds, etc.
Oily nuts: walnuts, pecans, etc.
For more info, you may find this podcast episode helpful (or you can download it in iTunes - look for "Raw Food Podcast" - Episode 5).
Q. Can you reach your ideal weight with raw food?
Q. How do you get more resources from The Rawtarian? Videos, more recipes, ebooks, challenges, support, etc?
Answer: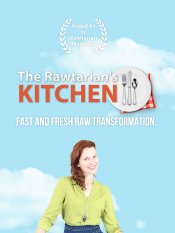 Q. The Rawtarian sells smartphone apps, but which one should you buy?
Answer:
There are two Rawtarian apps. Many people purchase both, but if you only want one I suggest you start with "Raw Food Recipes App."
Q. Where can you find RSS feeds for all of The Rawtarian's goodies?
Answer:
You can find all of The Rawtarian's Feeds on The Rawtarian Feed page.
Q. Who is Laura-Jane The Rawtarian?
Answer:

Laura-Jane The Rawtarian is a leading creator of simple, satisfying raw vegan recipes. She is the host of The Raw Food Podcast and the author of "Cook Lively" (2017). She is a member of the Association of Food Journalists and has been invited to speak at the Blogher Food Conference in Miami, FL and the Canadian Food Bloggers Conference in Vancouver, BC. Her recipes have been featured in The Huffington Post, The Guardian Newspaper and Vegan Life Magazine. She lives in rural Atlantic Canada. She shares 100+ free simple, satiating raw food recipes at www.therawtarian.com. Find out more about Laura-Jane here.