People frequently ask me, "Laura-Jane, what does your average raw food day look like?"
My day is not this totally different, fancy raw recipes type of day - no, I tend to eat simply, and I return to my favorites over and over. Every day includes lots of veggies and fruits. And I pretty much start every day with a big 'ol green smoothie!
To start the day...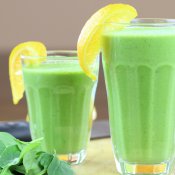 My go-to brekkie is a large Silky Green Smoothie. Packed with goodies like bananas, oranges, apples and spinach, it's the perfect start to my busy days.
If I'm in the mood for something different, I go for the Raw Oatmeal, Raw Breakfast Bowl, or Raw Porridge. These recipes are not only delicious and filling, they are easy to make - important when you're running late!
Make sure to fuel yourself up for the day with a hearty breakfast! It will set you up with lots of energy to tackle the rest of your day.
It's lunch time!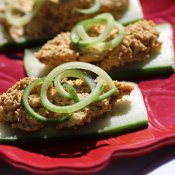 Lunch is often a salad topped with either Walnut Pate or Salmon Salad Pate. Sooo tasty!
And I love soups! A bowl of Celery Soup with raw crackers, or a bowl of Tomato Soup with a side of raw hummus = the perfect lunch! I'll also include a small side salad (super easy, like spinach with cherry tomatoes).
And for supper...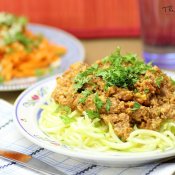 Mmm, what to have for supper? I like to have a hearty supper at the end of the day (complete with dessert of course!)
So many awesome raw recipes to choose from, but I usually go for my favorites:
Note: I usually make a small salad for supper, as well - loaded up with lots of my fave veggies.
Gotta have dessert!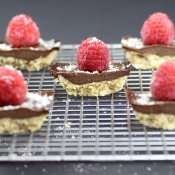 I love dessert: who doesn't? My dessert picks are Brownies, Chocolate Shortbread Bars, and Sesame Seed Bars. No, not all at once! Although the idea is tempting!
If I'm extra peckish, perhaps a piece of fruit to go-with.
Don't forget the snacks!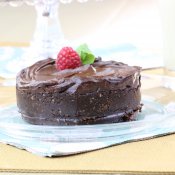 I don't like feeling hungry. So I usually eat two snacks every day. First one mid-morning, the second in the afternoon (not long before supper!). Not letting yourself go hungry is key to success. When you are starving, you either make poor food choices, or you give up on going raw. Allowing yourself snacks helps you stay fuller and feel happier!
A typical snack for me is two apples, or one banana, or a handful of nuts. Perhaps a small slice of brownie, or maybe a handful of crackers straight from the freezer. Hmm, I think I want a snack right now!
There ya have it!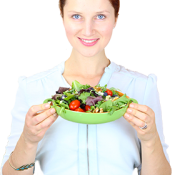 Now you have an idea of what my raw food intake looks like. Most days I stick to simple favorites. Other days I fancy things up for a special occasion. And I definitely have days where I'm craving something different. Depends on my mood, time of year, motivation... !
So, find your favorite recipes and enjoy them... a lot. Just as you used to eat your SAD favorites, so it is with eating raw. If knocking back a big green smoothie every morning (afternoon, evening), is your thing, then stick with it! You may eat more or less than me, and that's fine. Your body will tell you what's working for you - listen to it!