Chia seeds are used to thicken and add texture to many different types of recipes. Did you know you could thicken smoothies and shakes with chia seeds? Same with sauces and puddings and more! Plus, they are a dandy source of dietary fibre!
Here is a selection of recipes that use chia seeds. These versatile little seeds are a total must-have in my kitchen!
Raw Porridge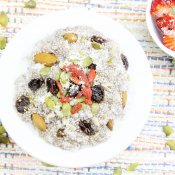 Here's a hearty breakfast to start your day right - Raw Porridge! Chia seeds, raisins, and coconut are the top ingredients, along with other nuts and seeds of your choice (almonds, pumpkin, sunflower...).
I prefer to use milled (ground) chia seeds in this recipe.
Raw Strawberry Sauce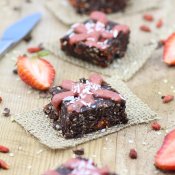 Liven up your raw desserts with this delightful Raw Strawberry Sauce. The chia seeds thicken the sauce to the perfect consistency - yum!
This is crazy easy to make - just 3 ingredients: strawberries, dates and chia seeds!
Raw Chocolate Chia Pudding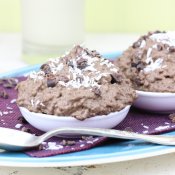 Chia seeds thicken up puddings like there's no tomorrow! Try this Raw Chocolate Chia Pudding on for size and you'll have to agree!
Cashews, chia seeds and cacao powder are the primary ingredients in this lovely chocolate-y recipe!
Raw Strawberry Milk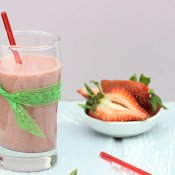 Strawberries + chia seeds + sweetener + water = the ultimate Raw Strawberry Milk recipe! Thick, syrupy-smooth sweetness describes this smoothie perfectly.
This is a healthy and delicious drink for kids, too!
Raw Banana Bread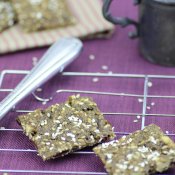 This Raw Banana Bread gets its firm texture from plumped-up chia seeds. This easy recipe (yes, it's easy even tho' you have to use a dehydrator) will satisfy any banana bread cravings you may have ever had!
Bananas (of course!), dates, carrots, chia seeds and pecans are the main ingredients in this scrumptious banana bread!
Sold on Chia Seeds?
As you see, chia seeds can be used for more than to thicken puddings! Make sure you've got a container of 'em on hand in your cupboard, and make sure to use them, m'kay?
Check out The Skinny on Chia Seeds to discover more about these useful little seeds!