Who doesn't love to have their favorite recipes made more convenient and easier to get to? Information right at your fingertips is a good thing! Get The Rawtarian's raw food recipes and meal plans on your smart phone or tablet. Planning and deciding what raw vegan dish to prepare next is a lot easier with my handy mobile apps. You no longer have to browse the internet and go to the website to look for a recipe, and you don't have to print all those raw food recipes anymore. I now have two raw food apps that squeeze all your favorite raw food delights as well as some very useful meal plans into your trusty mobile device.
The Rawtarian's Raw Recipes Mobile App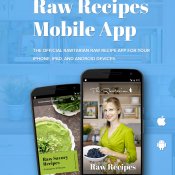 If you're always looking for new raw vegan dishes to prepare or keep going back to the website for those particular recipes you're so fond of, now you can just bring with you all your much loved Rawtarian recipes. The Raw Recipes Mobile App includes over 100 of the best simple and satisfying raw recipes from TheRawtarian.com.
It's very handy and easy to use. The app provides great features for a hassle-free experience. There's a shopping list with a checklist to help you organize your raw food needs. It allows you to bookmark raw recipes for quick access and has a useful search tool to help you look for recipes by ingredient. All the recipes also includ high-quality photos in full color which you can zoom in and out. The app even has its own built-in comment feature where you can browse and add comments to know what other users think. Once you've downloaded and installed the Raw Recipes Mobile App, you don't need to be connected to the internet to get full access to the application. Also, the app itself keeps up to date with the newest recipes when it's online to keep your raw food recipes list growing.
The Raw Recipes Mobile App has been purchased more than 12,000 times and has over 60 five-star reviews in the App Store and on Google Play.
The Rawtarian's Raw Meal Plans Mobile App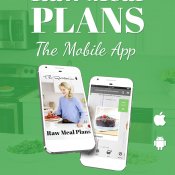 Do you sometimes hit a wall when deciding what raw dish to prepare for dinner? Planning the next raw meal of the day can be a bit of a challenge sometimes, especially when you're just starting out on your raw food journey. My Raw Meal Plans Mobile App is your best buddy that will help you decide which yummy raw vegan dish graces your table next.
From 7-day raw challenges for beginners to 28-day raw challenges for intermediate raw fooders, this app is a reliable raw meal planner that guides you through each meal of each day and takes the weight of decision-making from your shoulders. Newbies and even long-time raw foodies alike love this app. It contains different well-detailed meal plans of more than a hundred simple and delicious raw food recipes for breakfast, snacks, lunch, dinner and dessert. It also has a lot of handy and fun features such as organized shopping lists, user comments, gorgeous raw food photos, private notes on recipes, and more. You don't even need internet access to use the app once it's been downloaded to your mobile device! Just start your plan and let the app take care of the rest.
Excited for your next raw food adventure yet? Why not get these awesome apps on your Apple or Android device right now. No need to print the recipes and no need to trouble yourself with decision making any longer. Simply download my Raw Recipes Mobile App and Raw Meal Plans Mobile App from iTunes or Google Play and enjoy the amazing sources of raw food ideas for your next raw indulgence anytime.
Get started right now
Not sure which app is right for you? Start with my Raw Recipes app right now!