If you're looking for the best raw smoothie recipes to try and would like some variety instead of having the same green smoothie every day, then let me round up a few of my top-rated raw smoothie recipes that I've shared on this site. Many raw foodies have already tried making them and really loved them. These raw smoothie recipes are all very delicious and easy to prepare, so get your blender ready and blend away these popular raw concoctions!
Rawtarian's silky green smoothie recipe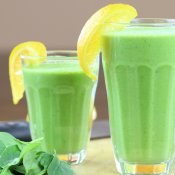 I know I've said you probably were looking for variety aside from a green smoothie. But what's a top-rated raw smoothie recipes list without a green smoothie? This silky green smoothie recipe may be quite simple but it's definitely not lacking in the taste department. Plus, it's very practical and uses every day ingredients. (No berries in this one to keep the costs down.) To make this green smoothie, just dump in all the ingredients, namely bananas, oranges, an apple, spinach, water, lemon juice, cinnamon, and/or chia seeds, in your high-speed blender and blend away. Make sure it's blended to a silky smooth texture for best results.
Raw chocolate shake recipe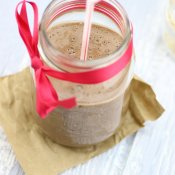 Who doesn't get excited about chocolates? They're always a delight to have, not to mention packed with oodles of healthy goodness for your body. This raw chocolate shake recipe is also great for your kids. You can even have them make this recipe on their own with your help. It's so easy. Just blend bananas, raw cocoa powder, agave nectar and water together, and it's ready to serve! You can have fun and adjust the measurements depending on what your tastebuds dictate.
Raw lemonade smoothie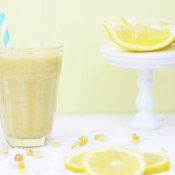 Lemonade has a summer feel to it, but that doesn't mean you can't enjoy the zesty summer feel even in winter (or any other season). For my raw lemonade smoothie recipe, you need water, a peeled lemon, a banana, dates, and celery or parsley. Throw them all in your blender and start blending. If your blender is not powerful enough, you might want to omit the celery because it may leave stringy bits in your smoothie. Otherwise, this recipe is perfectly refreshing.
Raw strawberry milk smoothie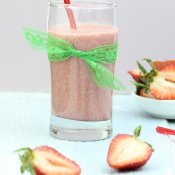 Don't think this is just another strawberry milk shake recipe because it's not your ordinary milk shake. It's a raw strawberry milk recipe without milk. But that's no reason to despair because it tastes just as good or maybe even better! Let me tell you first that this recipe is best made using a high-speed blender to achieve the best texture. It's also important to use frozen strawberries instead of fresh ones. Anyway, there are just a very few ingredients you will need for this recipe. Throw water, frozen strawberries, chia seeds and honey or agave nectar into your powerful blender and blend until nice and smooth. And that's it! Many raw fooders have tried and loved this smoothie recipe, and I'm sure those who haven't tried it yet will also love it too.
Raw eggnog smoothie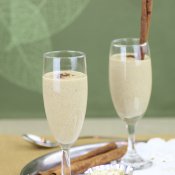 This recipe is either too late or too early for Christmas. But this one made the top-rated raw smoothie recipes list because… it's rated five stars by many! Haha, kidding aside, many raw fooders love to have this raw food eggnog recipe in their list of holiday treats. And hey, it never hurts to learn another yummy smoothie recipe or two. Simply blend dates, cashews, coconut oil, vanilla extract, cinnamon and water, and enjoy the yumminess of this eggless raw eggnog. Next Christmas (or maybe tomorrow?), you can impress your friends and family with this raw twist on a traditional holiday eggnog.
Which smoothie will you try?
Which of these top-rated raw smoothie recipes do you think you'd enjoy most? I know it can be tough to pick one favorite especially when each smoothie is in a class of its own. But having various healthy smoothie options to choose from everyday is important. They make you look forward to what taste your palate can explore next.
So go ahead and experiment with your own blend of raw food smoothie!