Ice cream is sooo good, even in its 'plain-Jane' form. You'd be surprised at how many people say that vanilla is their fave flave! But you gotta add some excitement to your ice cream at least once in your life!
Here's a selection of raw vegan ice cream toppers that just may surprise you. Start the ball rolling with a serving of Raw Soft Serve Ice Cream or Raw Chocolate Ice Cream ...
Raw Brownies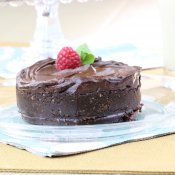 Seriously, Raw Brownies make an ah-mahzing ice cream topper. Just make up a batch of brownies and DON'T put 'em in a pan! Keep the crumbled-up mixture in a container, and mix some in with your ice cream whenever the mood strikes.
Try it. And admit that you like it!
Raw Chocolate-Chip Cookie Dough Fudge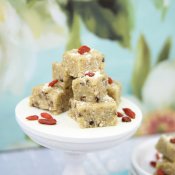 Here's another excellent ice cream topper. Raw Chocolate Chip Cookie Dough Fudge. The name says it all, dontcha think? Mix in fudgy chunks of goodness with your ice cream. Devour immediately.
Pair this topper with raw chocolate ice cream for a flavor extravaganza!
Raw Granola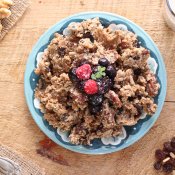 If you're in a 'nutty' mood, try topping your ice cream with Raw Granola. Sunflower seeds, hemp seeds & pecans are just a few of the ingredients in this super yummy granola.
Always keep a batch of granola on hand for breakfast... and for ice cream!
Raw Caramel Sauce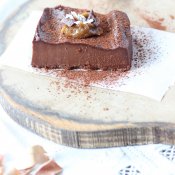 Oh yeah, now we're talking! A Raw Caramel Sauce to drizzle over your ice cream. Oh, so sweet and simple!
Dates and cashews are the main ingredients in this sauce.
Raw Strawberry Sauce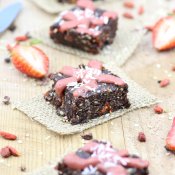 Fruit lovers, don't despair. Here's a delightful Raw Strawberry Sauce that will bring a smile to your face! Drizzle this sauce on top of your ice cream and garnish with fresh sliced strawberries. Yum!
Chia seeds are used to thicken this sauce, but you can omit for a more syrup-y consistency.
And you might also try...
You can also top your ice cream with a variety of fresh/dried fruits & berries, as well as your favorite nuts & seeds. The combinations are endless: cherries & raw cacao nibs, pecans & raisins, walnuts & blueberries... you see where I'm going, right?
What are your fave vegan ice cream toppers? Please do share!