Chips and snacking go hand in hand, dontcha think? Just because you are raw does NOT mean you have to give up salty, yummy chips! Raw chips come in all varieties, from yam to corn, zucchini to kale. And even seaweed! And they all taste oh, so good.
Psst: you DO need a dehydrator for these recipes!
Raw Corn Chips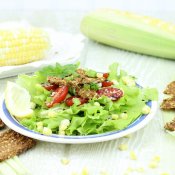 These Raw Corn Chips are just a little moist & bendy, so they're perfect for dipping. Corn, yellow pepper, flax seed meal, cashews & seasonings combine to make a dee-lish snacking chip!
Serve with guacamole for a total flave sensation!
Raw Zucchini Chips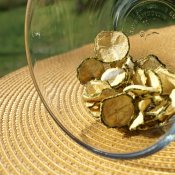 Somehow the humble zucchini transmogrifies into these scrumptious Raw Zucchini Chips! Just three ingredients: oil, salt and--you guessed it--zucchini!
These chips make for a nice, light snack.
Raw Yam Chips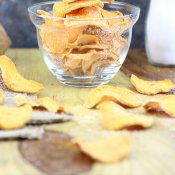 If you like yams, you'll love Raw Yam Chips! Make a batch of these hearty chips and settle in for a movie. Doesn't get any better!
I do recommend a mandoline slicer for best results.
Raw Kale Chips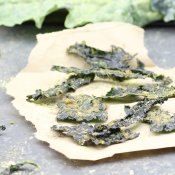 For a different taste sensation, try a batch of Raw Kale Chips. They can be addicting, so be forwarned!
If dehydrated really well, these chips keep nicely in ziploc bags. Handy for on-the-go snacking!
Raw Seaweed Crunchies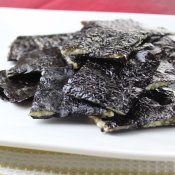 Well, okay, these Raw Seaweed Crunchies are not officially chips, but they're salty & crispy & tasty. Just what you want in a savory snack, right?
These crunchies pack a flavor punch so a little go a long way. And they store well, so it's a win-win!
Get Snackin'!
Pull out your dehydrator and give one of these raw chip recipes a shot! You will be super surprised at how good they are. In fact, the only problem is that they disappear too fast, so you'll be forced into making another batch, and yet another...