Mornings are a very busy time of day. And breakfast is said to be the most important meal of the day! I know, you've heard this before, but it never hurts to have a little reminder about how to improve your health. Mornings are busy, but my quick and easy raw food recipes for breakfast are just what you need to kick-start your day.
Rawtarian's Silky Green Smoothie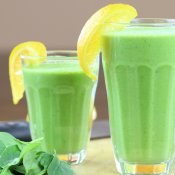 In making this silky green smoothie recipe, you just need to dump in all your fresh fruits and spinach and the rest of the ingredients in a high-speed blender, and blend until it becomes silky smooth in texture. This raw food recipe for breakfast will take less than five minutes to prepare, and it is satisfyingly delicious!
Raw Oatmeal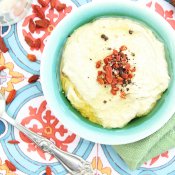 How about taking your regular oatmeal up a level with this raw oatmeal recipe? You only need a few ingredients for this raw food recipe for breakfast, but it will make for a filling meal to get you going through the morning. You have an option to soak the raisins and the steel cut oats in water overnight to soften them, or just blend them all in the morning together with the chopped apple. It may take a little bit longer to prepare, but soaking will give that smoother and creamier texture to your raw oatmeal recipe.
Rawtarian's Raw Breakfast Bowl
Here's another raw food recipe for breakfast that doesn't need any equipment but takes very little time to whip up. Just shred your apple in a bowl and mix it with the rest of the ingredients until the chia seeds and the shredded coconut absorb the cashew milk (or water). Easy peasy and there you have it! Your hearty raw breakfast bowl is ready to serve and eat.
Raw Porridge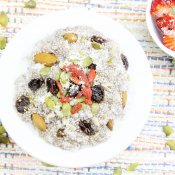 This raw porridge recipe is also a very quick to prepare raw food recipe for breakfast. Just add water to your chia seeds in a bowl and stir immediately to prevent it from clumping. Then add honey and coconut and any other ingredient you would want to add, like pumpkin seeds or almonds or whatever your tastebuds prefer. The optional ingredients are just for a little added flavor. Once your porridge is thick enough, you may top it with raw cashew milk or blueberries. Having this raw porridge in the morning is a good start to your long day ahead!
Morning Round-Up
The morning rush shouldn't deprive you of enjoying your breakfast, so being able to spend less time preparing what you eat in the morning while still being able to make a substantial and tasty meal is very important. And that is what my raw food recipes for breakfast are all about. So go ahead and try one of them yourself, and you won't have to skip on breakfast again!