Cookies. Need I say more? Well, yes, but I don't really need to! Who doesn't love cookies? They make the best snacks, everyone loves 'em (most everyone!), and being raw cookies, these won't leave you feeling guilty about eating too many!
Keep some on hand for lunches or treats, or for serving up to unexpected visitors. It's always wise to have cookies tucked away for any occasion!
Raw Peanut Butter Chocolate Chip Cookies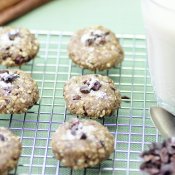 Tahini is the magical ingredient that makes these Raw Peanut Butter Chocolate Chip Cookies stick together and taste 'peanutty.' Note: there are actually zero peanuts in this recipe (because raw peanuts are a no-no). Chunky pieces of almond add to the texture, and cacao nibs are the 'chocolate chips.'
You can use raisins instead of cacao nibs, but whatever you decide, these cookies are sweet and delicious!
Raw Cinnamon Raisin "Oatmeal" Cookies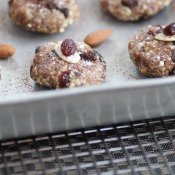 While these Raw Cinnamon Raisin "Oatmeal" Cookies don't contain oatmeal, they really do taste like 'real' cinnamon raisin cookies! Trust me on this one, okay? Almonds and honey provide texture and sweetness to this recipe. Coconut oil holds it all together (because it solidifies when it is cold).
Serve these delightfully tasty treats up with a cold glass of almond milk or ... ?
Raw Vanilla Drop Cookies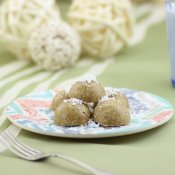 Super easy peasy cookies and no equipment required! For an amazing sweet fix, whip up a batch of these Raw Vanilla Drop Cookies. These are freezer cookies, so it's easy to keep a batch on hand for guests (or personal emergencies!).
Coconut oil, coconut and tahini (and vanilla, of course!) are the main ingredients that make these cookies so darn delicious!
Best Raw Chocolate Cookies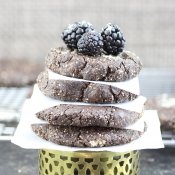 So named because they simply ARE the Best Raw Chocolate Cookies! Seriously, these are my fave chocolate-y, fudgy cookies! You can mix everything up, form into cookies and eat right away. Or you can dehydrate for a few hours for optimal warm gooey goodness! (I like 'em warm, myself!)
Either way, these chocolate cookies are truly divine.
Raw Lemon Cookies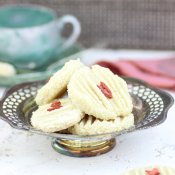 Just for you, these simply sinful Raw Lemon Cookies. Only four ingredients - cashews, unsweetened coconut, one lemon (only one!), plus a sweetener (maple syrup or agave nectar). Sweet, creamy, and oh so lemony, this recipe will please every lemon cookie lover in your life, including yourself!
Yes, you have to use a dehydrator but don't let that stop you! You simply must try these lovely lemon cookies!
Easy Almond Pulp Cookies
Here's a recipe that will use up your leftover almond pulp, yay! Easy Almond Pulp Cookies are really super easy to make! Mix everything up, form them into little cookies, and dehydrate. The end result is a light tasty cookie that reminds me of a vanilla wafer.
Other ingredients include coconut and a sweetener (maple syrup or agave nectar).
What's your fave cookie?
Chocolate, lemon, vanilla? The flavors of oatmeal, cinnamon, or peanut butter? Whatever your pleasure, one of these raw cookie recipes will surely hit the spot! You'll def. want some on hand for when I pop over, all righty?