I use coconut oil in many of my raw food recipes. There's a reason for that! Coconut oil solidifies in cold temperatures - this means that it gives body and texture to recipes. Take the sesame seed bar recipe, for example. The mixture will be soft as you press it into the pan. But once it's been in the freezer for a while... voila! You can now slice it into nice, firm bars.

Here is an awesome selection of mouth-watering recipes that use coconut oil. Fill your boots!
Raw sesame seed bars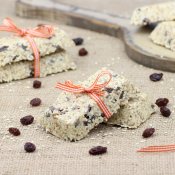 For the perfect go-to freezer bar, try these Raw Sesame Seed Bars. Crammed full of sesame seeds, raisins and coconut, these bars are super good for you. Plus they are so easy to make.
Keeps these bars on hand in the freezer for when you need a snack fix... fast!
Raw pancakes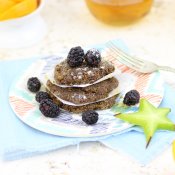 Rich and filling, these Raw Pancakes are a decadent treat. Flaxseed meal is the key ingredient (and coconut oil, of course!).
Serve with your favorite fruit for a taste explosion!
Raw vanilla drop cookies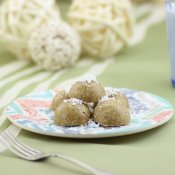 Nothing is easier than a drop cookie. Super sweet and rich, these Raw Vanilla Drop Cookies will become one of your faves. Keep a batch of these cookies in the freezer on hand for your guests, or for a fast sweet fix.
Oh so easy to make, these cookies require no equipment!
Raw chocolate haystacks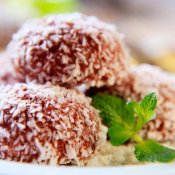 Here's another super easy drop cookie recipe. Moist and chewy, these Raw Chocolate Haystacks will scratch your chocolate itch in a hurry.
No equipment required = yay!
Raw cheesecake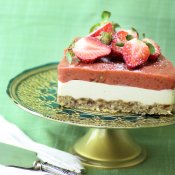 Who'd have thought raw cheesecake could taste so divine? This Raw Cheesecake is so good, you can serve it to your guests with confidence. But really, I'd understand if you kept it all to yourself!
Always keep a raw cheesecake in your freezer... just in case!
Raw chocolate icing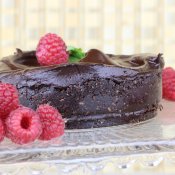 Hard to believe that something as crazy delicious as this Raw Chocolate Icing has dates as its main ingredient! Coconut oil gives it its creamy thick texture.
If you wanna just eat this by the spoonful, I'll totally understand!
Got coconut oil?
Coconut oil really is a must-have staple in a raw vegan kitchen. Not only is it good for you (internally and externally!), but it is vital to making many raw food recipes. If you've never tried coconut oil in a recipe, now's your chance. Whip up one of these tasty recipes and see coconut oil in action for yourself!