What occasion calls for loads more green than usual? Yes – it's Saint Patrick's Day! (Err, I realize the post title spoils it, but let's just pretend you didn't see that.)
For raw vegans, having lots of greens on the table may be already an ordinary sight. It seems like everyday might be Saint Patrick's Day. But this occasion is extra special for many, so why not go the extra mile and whip up a few mean green recipes to enjoy all day!
Just something a little different and festive from the usual green salad, ya know?
Silky green smoothie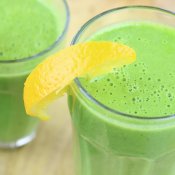 What better way to start your St. Patrick's day than with the Rawtarian's classic Silky Green Smoothie? It's big and it's green! And of course, it's extra smooth and oh, so good for you! Fill up a clear go-cup and take it with you to work. Wave it at people as you walk by, so they know YOU'RE celebrating St. Patrick's Day in style!
You must have a high-speed blender to achieve the ultimate silkiness of this recipe!
Raw broccoli soup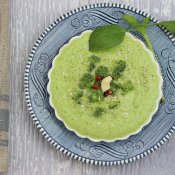 Keep up the festive theme for lunch (or supper!) with this surprisingly delicious Raw Broccoli Soup. Cashews provide this soup with its yummy creaminess. And broccoli being the numero uno ingredient, it is a lovely shade of green. So you're still rockin' St. Patrick's Day!
If you haven't made this soup before, give this recipe a try. If you love broccoli, you are going to totally love this soup!
Raw stuffed mushrooms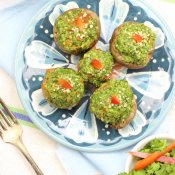 Impress your friends (or just yourself!) with these Raw Stuffed Mushrooms. They are stuffed with spinach and basil, so yes, this recipe still fits in with today's green theme! Pine nuts and red/yellow peppers are also included in the filling, so you can be assured, these little morsels are most delectable!
This recipe does require a dehydrator, so make sure you plan ahead (it's worth it!).
Raw sweet kale cheesecake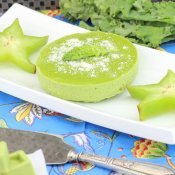 The vibrant green color of this cheesecake recipe is just perfectly fitting for a St. Patrick's Day raw dessert. Even though it's green and all, it's surprisingly sweet and doesn't even have that green flavor to it. This Raw Sweet Kale Cheesecake requires only a few ingredients and very quick and easy to follow steps: blend, pour and freeze.
What makes this raw sweet kale cheesecake recipe stand out is its lovely shade of green and its sweet flavor.
Surprising and delicious St. Patrick's Day recipes!
St. Patrick's Day is looming just around the corner, and if you don't have shamrocks or any creative green ideas to prepare, any of these green recipes will fit the bill! You can start your day with the silky green smoothie, and finish with the sweet kale cheesecake. Or serve up the broccoli soup and stuffed mushroom caps for a yummy lunch!
Do you have your own raw food green overload for the 17th ready?