If you are a raw food newbie, you might be asking yourself... what ingredients are essential to making great-tasting raw recipes?" Good question! There are many raw products and ingredients out there in the big 'ol world--so what do you really need?
Now, think about a carrot for a moment. A carrot tastes good, it's crunchy and it tastes like a carrot! But what does it bring to a recipe? It doesn't really do anything but be a carrot (and we're totally fine with that!). The following must-have ingredients have attributes that contribute universally to a wide variety of recipes. They may add texture or sweetness or a unique flavor. Some add creaminess or thickness or body. Do you see where I'm going with this? :)
If you peek into my kitchen cupboard, you will for sure see these 7 raw ingredients...
Coconut oil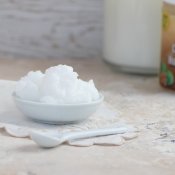 Hardens & adds texture

Coconut oil is liquid at room temperature, firm-ish in the fridge, and solid when frozen. This attribute makes it the most versatile and useful raw food must-have. Check out how I use it in this Raw Pumpkin Pie recipe. The filling is liquid-y to start with, but lo! after a stint in the freezer, the pie is ready to slice and eat. Yum!
Raw Cream Cheese Icing, on the other hand, is kept in the fridge. In this recipe, the coconut oil loses its liquid quality and nicely firms up so that the cream cheese is now spreadable. Like real cream cheese!
I also use coconut oil in its liquid form, as in this Raw Egg Nog. Here it adds texture (body) to the nog.
Olive oil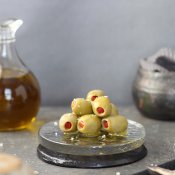 Adds flavor & texture

Here is another oil that I consider a must-have. Olive oil adds flavor and texture (body) to certain recipes. And it is versatile. It stands alone drizzled over a salad. Or it can be added to recipes - like this Simple Raw Garlic Salad Dressing!
Olive oil also ramps up the flavor and crisp-factor in this scrummy Raw Kale Chips recipe.
Sea salt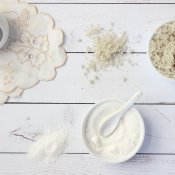 Adds flavor
"Flavor" pretty much sums up why sea salt is a must-have! Sea salt revs up any recipe, both savory and sweet.
Erm, not much more to say on the subject of salt!
Cashews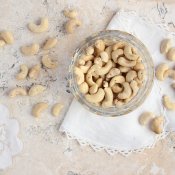 Adds creaminess & texture

Cashews are da bomb when it comes to adding creaminess & texture to recipes. When blended, the nuts take on a lovely, creamy texture that is perfect for a variety of recipes. Note that cashews don't add a lot of flavor- they are best used as a 'base' ingredient.
Blend cashews into soups - check out this Raw Tomato Soup - and sauces for a nice, thick texture. Or use them in desserts and fillings like cookies, cheesecake, and Raw Fudgsicles!
Lemon juice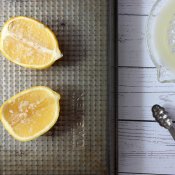 Adds acidity & flavor

You can't beat lemon juice for adding major zing to your recipes! Its tartness takes a recipe from ordinary to OH YES! Like these Raw Cranberry Lemon Cheesecake Bites. Lemon juice is the surprise ingredient that elevates the taste factor.
You can add lemon juice to recipes like smoothies, sauces and desserts. Our tastebuds can always use a little extra kick, yes?
Chia seeds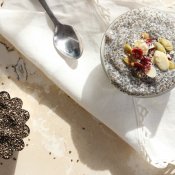 Thickens & adds texture

Ah yes, chia seeds. This ingredient definitely makes my must-have list. Chia seeds are tiny hard seeds that absorb up to 10x their weight in water. Hence their super-power ability to thicken anything you add them to! If you haven't tried chia seeds yet, get a move on! Here is a de-lish breakfast recipe for you to start with: Raw Porridge.
I use chia seeds in puddings, sauces and smoothies. A very useful little seed!
Dates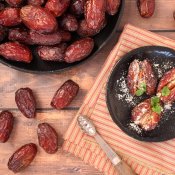 Adds texture & sweetness
Dates are never missing in action in my kitchen. Never! They add both texture and sweetness to raw food recipes. You won't miss white sugar when you use dates, trust me! Dates are 'sticky', which makes them ideal for binding recipes together, like my Raw Brownies. This recipe is a classic example of how dates excel in a recipe.
Besides using dates in many of my desserts, I also blend them into smoothies. Again, the dates add body to the smoothie, as well as sweetness. A total must-have ingredient!
Must-have ingredients... yes?
I hope I've given you some ideas here, though I'm pretty sure you have tried many, if not all, of these ingredients. You can see how important they are. What other must-have raw ingredients do you keep in YOUR kitchen?