Holidays and sweet treats go hand in hand. Just because you are raw doesn't mean you can't enjoy festive treats along with everyone else! In fact, the following yummy recipes will leave your guests asking for more...
... and totally in awe that they are eating raw!
Raw Cranberry Lemon Cheesecake Bites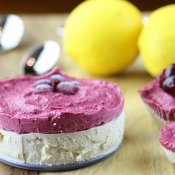 Cranberries are the ultimate holiday berry. These Cranberry Lemon Cheesecake Bites surprise with their combined tang of cranberry and lemon. Not a sweet treat (kids may not like), but I love these bites! Easy to make, yet fancy enough to serve at your next holiday get-together.
Impress your guests with these zippy festive treats!
Raw Pumpkin Crumble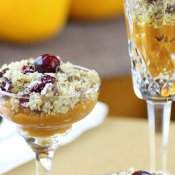 If you don't feel like making pie, but you still want pumpkin, whip up this
delicious Raw Pumpkin Crumble. Not only is this a treat to eat, but it's easy on the eyes when fancied up in pretty parfait cups.
Pumpkin and dates are the key ingredients in this super easy-to-make dessert.
Raw Chocolate Shortbread Bars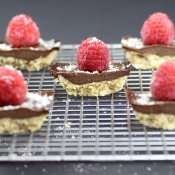 If there's a must-have for any holiday, it's shortbread. For you raw peeps who thought shortbread was just a distant memory, check out these Raw Chocolate Shortbread Bars! Cashews, coconut, and dates are key ingredients, but it's the lemon juice that surprises with its unexpected tang!
Serve a batch of these up at your next holiday bash, and make your guests uber-happy!
Raw Chocolate Truffles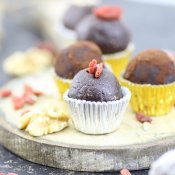 Truffles look so fancy, yet fussy to make. Not these Raw Chocolate Truffles! Not only are they easy to make, but they add a festive flair to any holiday gathering!
The secret ingredients are walnuts, sunflower seeds and dates. Garnish with goji berries for a festive flair!
Raw Butterfinger Bars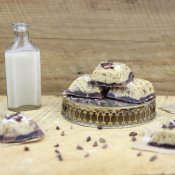 These super delicious Raw Butterfinger Bars are guaranteed to be a hit with your guests... if you can resist not scarfing them all back yourself! Yes, they are that good! Psyllium husk gives these bars their superb texture!
The nutty butterfinger base and chocolate-y topping = sheer bliss!
Decisions, decisions...
Which of these festive goodies appeals to you? Chocolate-y shortbread or truffles, a pumpkin-y crumble? Let's not forget the traditional cranberries (in a cheesecake, yet)! Or how about the butterfinger bars?
Whichever treat(s) you pick... enjoy!