There's nothing more refreshing than freshly blended juice. The great thing about juices is that you can make them simple (with one ingredient: think carrot juice). Or you can add more ingredients for extra kick and flavor.
Besides being simple to make and lovely to look at, juices are super nutritious. (Note: I use a Breville Juice Fountain.)
Here are a few simple juices to get you started...
The Rawtarian's Classic Juice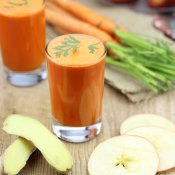 For a simple sweet yet zingy juice, try The Rawtarian's Classic Juice. Carrots, apples and ginger combine for maximum flavor punch! Guaranteed to rev your engine in the morning, plus your body will thank you for such nourishing goodness.
This is easily my favorite breakfast juice.
Raw Carrot Juice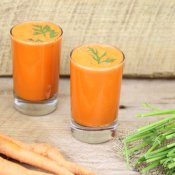 I love Raw Carrot Juice 'cause it's easy to make, sweet, and inexpensive. And of course, it's super nutritious! If you haven't tried juicing yet, give this recipe a try.
Best part is, you don't even have to peel the carrots!
Raw Carrot Ginger Juice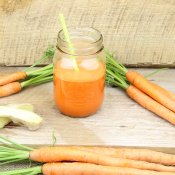 Take your carrot juice to a whole new level with this Raw Carrot Ginger Juice recipe! Ginger does wonders for your immune system, plus its zesty ginger flavor will instantly perk you up.
Carrots don't have to be peeled, but you must peel the ginger (easy to do with a small paring knife).
Raw Apple Beet Juice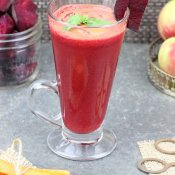 Not only is this Raw Apple Beet Juice good for you, but it's beautiful to behold! The carrots, apples and beets combine for a delightfully refreshing drink.
No peeling required in this recipe - yay!
Get your juicin' groove on...
As you can see, juicing is ridiculously easy. Most ingredients don't even have to be peeled. Just toss everything into your blender and off you go! I like fresh juice for breakfast. And on a hot day. And after a workout...
What's your fave juice?