What treats do you have planned for mom this Mother's Day? If you want to spoil her (of course you do!) and need some inspiration, well, you've come to the right place! I've hand-picked a selection of recipes that is sure to appeal to your mom on her special day!
There's chocolate for the choccy lovers, and fruit for the err... fruit-y lovers! The only hard part about this is choosing which recipe to make!
In the chocolate-y corner...
Raw Chocolate Cake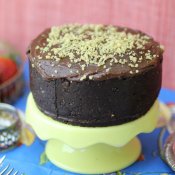 If your mom likes chocolate AND cake, then this Raw Chocolate Cake is the dessert for her! Walnuts, pecans, dates raisins, vanilla (and cocoa!) meld together into pure chocolate-y bliss.
This cake keeps well in the fridge so you can make it ahead of time.
Raw Chocolate Mousse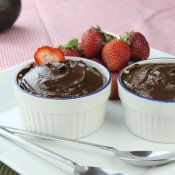 Make this Raw Chocolate Mousse by processing avocado, banana, coconut oil, cacao powder, a sweetener, and sea salt in a food processor until super creamy and smooth. Easy to make and a delight to eat!
This dessert is so good, you'll want to eat it all yourself. But save some for mom!
Raw Chocolate Ice Cream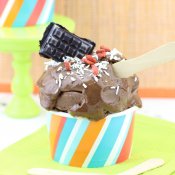 If your mom is an ice cream kind of person, then surprise her with a scoop of this Raw Chocolate Ice Cream! Who knew frozen bananas and cocoa could transmogrify into this super awesome ice cream!
This makes one large serving, so make sure to double it up for you and mom!
Best Raw Chocolate Cookies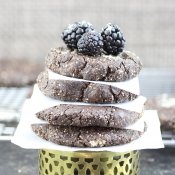 So named because they simply ARE the Best Raw Chocolate Cookies! Seriously, these are my fave chocolate-y, fudgy cookies! If you're in a hurry, just mix up all the ingredients, form into cookies and serve right away!
For extra warm, gooey goodness, dehydrate for a few hours (oh yes!!!!).
In the fruit-y corner...
Raw Banana Cream Pie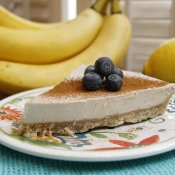 You can't beat this version of the classic. So very smooth and creamy, yet easy to make, this Raw Banana Cream Pie will put a smile on mom's face! Along with whoever else is lucky enough to get a slice!
Everyone wants seconds of this one, so if serving for a large group you may want to double it. Hear me on this!
Raw Orange Chia Seed Pudding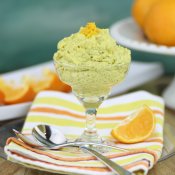 Here is a pudding that tastes like an orange creamsicle... seriously! This Raw Orange Chia Seed Pudding packs a flavor punch and is super easy to make. Your mom will love it!
P.S. It isn't a 'beautiful' pudding (what with the chia seed flecks) but the taste more than makes up for that!
Raw Raspberry Bars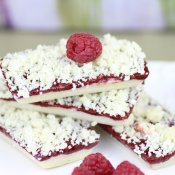 Aren't these Raw Raspberry Bars just so pretty? Coconut and cashews are the primary base ingredient, while raspberries and dates make for a dee-lish filling. These bars both look and taste great!
Your mom will be asking for this recipe after her first bite!
Raw Apple Crumble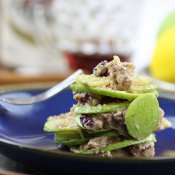 For a dessert that's not overly sweet, try this Raw Apple Crumble. Coconut, walnuts and dates are the main ingredients, along with apples! If your mom likes her apple a day, then this is the dessert for her!
You can make the crumble ahead of time and keep in the fridge.
Happy Mother's Day!
So, after reading about and drooling over all these recipes, have you decided which one you will make for mom?
Better yet, if you can't decide, make a chocolate-y dessert AND a fruit-y dessert - that way your mom gets the best of both worlds!