It's the week of hearts as the love-fest gets closer. What mushy stuff am I talking about? Why, Valentine's Day of course! And when you say Valentine's, sweets are always the highlight on the table. Whether you spend this once-a-year occasion with your special someone or even on your own, wouldn't it be nice to share some heart-warming raw sweetness with them? If you're in search of dessert ideas to tug at some heartstrings, I have the perfect lineup for you.
Raw vegan cheesecake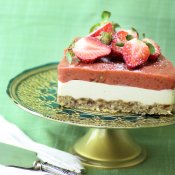 Since Valentine's day is a day when you have an excuse to be "cheesy," why not try making my delectable raw cheesecake recipe. It may look fancy and a little complicated, but it's truly quite simple and totally worth it. First, make the crust by processing the dates and macadamia nuts in a food processor. Sprinkle the bottom of a glass pan with dried coconut then press the crust mixture down into the pan. Next, blend all the cream-cheese filling ingredients in a high-speed blender, adding water only as little as possible, and pour the mixture on top of the crust. While the crust/cream-cheese mixture is firming up in the freezer for about an hour, blend the strawberries and dates until they reach a smooth consistency. Take out the cheesecake from the freezer and top it with the strawberry and date mixture before putting it back in for another 5 hours or so. Enjoy this delicious raw cheesecake recipe right out of the freezer or you can defrost it a little before eating.
Raw vegan chocolate mousse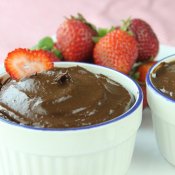 What's a Valentine's Day without chocolate? They're the most romantic desserts for Valentine's Day… or actually any day for that matter. This raw chocolate mousse recipe will not fail you since it is very easy and very quick to prepare. (I don't think I can put more emphasis on the easy and quick part than that!) Just process all the ingredients together in your food processor until it's really smooth and mousse-like, and then put into individual dishes to refrigerate for an hour or so. Next step? Eat it! Or you may pair it with your favorite red fruit like strawberries (they kind of like resemble the shape of a heart, which is fitting for the occasion!)
Raw vegan chocolate brownies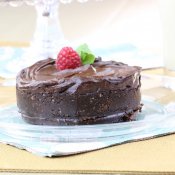 Oh boy, brownies! Most traditional desserts usually leave you feeling guilty after consuming a lot of them. And you may find it hard to resist eating lots of this raw brownie recipe this season. It might be so wrong but just so right since this recipe is full of good-for-you goodies. To make this recipe, start by processing the pecans into small and crumbly chunks in a food processor. Add the dates and process well until the mixture holds. Put in the rest of the ingredients with the mixture and process again until it becomes chocolatey brown, but don't let the mixture get too thick. Press the brownie mixture firmly into a pan and let it chill for a couple of hours. You may add a little excitement by topping your raw brownies with raw chocolate icing and a little berry fruit. Don't hesitate to be creative and make it more special, especially for Valentine's day!
Raw chocolate cheesecake hearts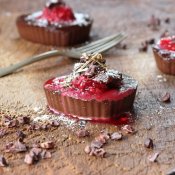 Mmm, here's a sweet raw vegan recipe for Valentine's Day! Raw chocolate cheesecake hearts! Cashews, coconut oil and cocoa are the main ingredients in these tasty little morsels. This recipe is so easy: all you need is a blender. Mix it all up, then pour into your favorite heart-shaped molds and freeze. That's all there is to it! I use silicone molds - but feel free to experiment! Make sure to share these with your loved ones (don't eat 'em all up by yourself!).
Raw vegan chocolate cherry fudge cake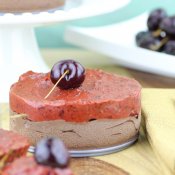 Another chocolate recipe, but, hey, it's a happy food and this love month calls for a happy mood! Besides, you can't deny that chocolate desserts are sexy. After all, raw chocolates are very rich in antioxidants and are also an aphrodisiac. To whip up your own "happy" chocolate cherry fudge cake, first blend the chocolate fudge base ingredients in a high speed blender, starting on low and gradually increasing the speed. Keep blending until it becomes smooth and creamy, then pour the mixture into pans/molds (heart-shaped ones, perhaps?) and place inside the freezer. While it's firming up, make the cherry topping by blending cherries and dates until nice and smooth. And when the chocolate fudge is firm enough, spread the cherry topping on top and put it back in the freezer until it reaches your desired consistency.
Raw chocolates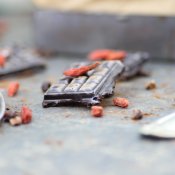 Perfect for your love, these raw chocolates are super easy to make and all you need is a blender and a freezer.
Your chocolates must be kept in the freezer all the time, otherwise they will melt :)
Happy Raw Valentine's Day
So there you are, my raw vegan recipes that are filled with love for your raw desserts for Valentine's Day! Maybe you can even make your date more special by making the desserts together for a more romantic feel. Or if you're on your own, blast the music and get rawkin'!