Ever want to try out a small version of a Rawtarian recipe to see if you'll like it? Hate wasting expensive ingredients on large recipes? Have a big family or raw food business that you need to prepare large recipes for? Well you're in luck: you can now adjust recipe serving sizes up and down here on my recipes! Ingredient amounts will adjust automatically. Works with both cups/tbsp (customary) and ml/grams (metric)!
I have wanted this feature since 2009 when I first started this website! And I have certainly received countless requests for this, since it is so handy. And this feature is finally here and live on each recipe!
To use this feature, simply click on the small edit (pencil) icon near the "servings" section on each recipe - then you can select your desired serving size from a drop-down menu, and the ingredients will update automaticaly. (Alternatively, click on the number of servings in the ingredients area, and this will get you to the same drop-down menu.)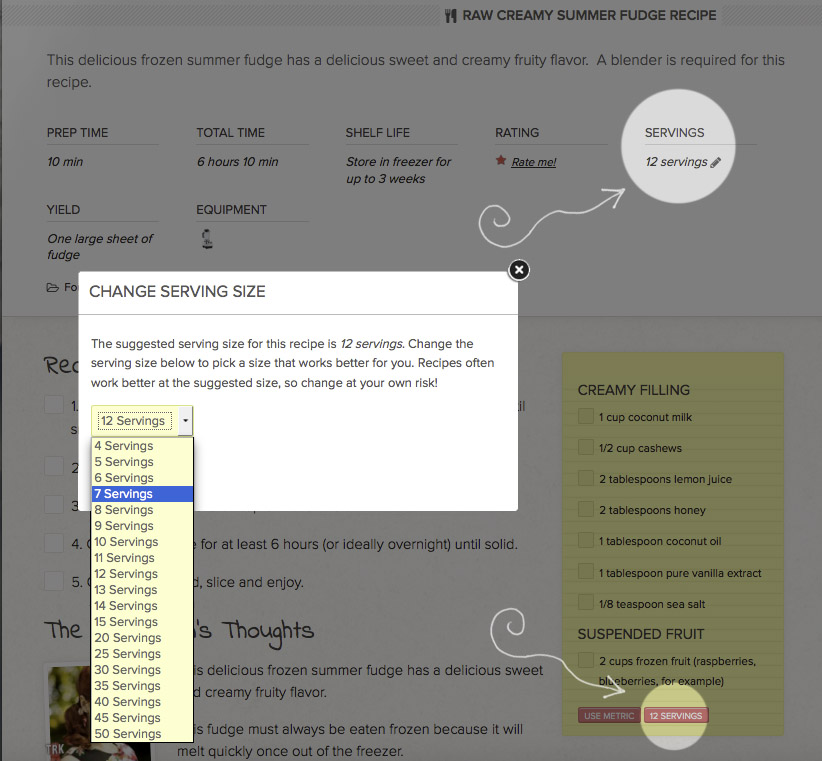 I took care to manually set the minimum and maximum size for each of my 100 free recipes and my 115+ TRK recipes. This is because, as you can imagine, some recipes just will not blend or process properly if the size too tiny or too huge! Thus, the available serving sizes vary for each recipe--from as small as 1 serving to up to 50 servings in some cases!
Generally, though, the best bet is to use the serving size that is a best fit yet is as closest to the "default" serving size as possible. Because of course, when multiplying a recipe by, like, 20, things get a little sketchy! But doubling, tripling etc is usually a no-brainer.
For those of you with my apps, this feature will hopefully be included in the next app that I am working on, which will be a new and improved version of my "raw recipes" app.
If you have any problems, bug reports or thoughts about how to improve this adjustable serving-size feature, I would love to hear from you!