It's nice to have something you can just bite into any time you get hungry, especially when you're nowhere near a raw vegan restaurant or a fresh produce market. Keeping raw food snack bars in your purse or in a small cooler in your car (or maybe even in your pocket) is quite handy. (Just don't store them in there for too long, of course!)
If you live in a metropolitan area and you get stuck in traffic a lot, the wait can get frustrating. If you're a student cramming for your exams and don't really have the luxury of time to plan which cafeteria to go to for healthy snacks, chances are you might end up with junk in a foil bag. Or if you just finished your daily workout, usually you'd want something quick and satisfying to nibble on.
We can all agree that being able to bring your favorite raw food in a snack bar is an awesome idea, yes? Then let me share a few of my raw food recipes that can travel and satisfy your craving in a snap.
Raw sesame seed bars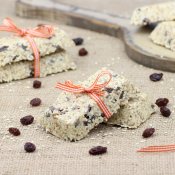 This is one of my favorites, its flavor is sweet but not too sweet, and it's very filling. The tahini is the secret ingredient in this recipe. You don't need any equipment to prepare this recipe.
Simply mix all the ingredients starting with the dry ones: sesame seeds, raisins, dried shredded coconut, flaxseed meal, and sea salt. Then add tahini, coconut oil, maple syrup and vanilla extract. Once the mixture is well combined, place it in a large dish and press down firmly. Cover it and put inside the freezer for at least an hour. This raw sesame seed bar recipe is best served chilled, but it's also a great raw food snack bar on the go. So if there's no freezer or fridge wherever you're going and if you decide to snack on it at a later time, keep it in a cooler or a freezer bag otherwise it will crumble.
Raw granola bars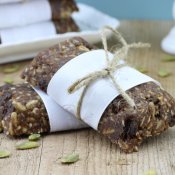 Raw granola bars are perfect snack bars to go. They're compact energy boosters, and this recipe is simply delicious! Before you begin, let me tell you this: Don't be intimidated by all the ingredients you see on this recipe. It's not at all as complicated as it may seem.
Just briefly process your pre-soaked almonds and dates in a food processor and transfer the chunky mixture into a bowl. Next, add all the remaining ingredients and mix well before pressing the mixture into a glass dish. And you're done! For traditional crunchy granola bars, you may optionally want to dehydrate some or all of them as well.
Raw carrot refrigerator cake slices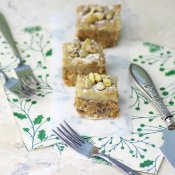 Snack bite slices of this raw carrot refrigerator cake recipe can transform this dish into an awesome snack bar. It also keeps well, which makes it great for travelling. Just take a few minutes to plan and prepare this raw food snack bar ahead and you're good to go.
To make the cake, simply process your carrots briefly into little chunks. Add all the remaining cake ingredients into the food processor and process again briefly. Make sure you don't over-process. The perfect texture must still have little chunks of carrots, nuts, etc. visible. Transfer the cake mixture into a dish and press down firmly and set aside. Meanwhile, blend all the icing ingredients in a high-speed blender until nice and smooth. Top the cake with your icing and refrigerate for two hours or so. Once the raw carrot refrigerator cake hardens, you can slice it into snack bar sizes. This recipe is also best kept in a cooler if there's no fridge where you're going.
Take your bars on the road
Healthy snacking can be challenging most especially when you're not in the comfort of your home. But it takes only a few minutes to plan ahead so you'll always have something ready in your fridge or cooler for sudden cravings. Preparing these raw food snack bars is quite simple and very easy, so don't hesitate to try and make them yourself. Can you think of other tasty raw food recipes you can snack out on?