Tired of plain old green salads (not that there's anything wrong with them!)? Liven up your next salad with a delicious raw dressing. From crazy garlicky to oh-so-cool ranch, there's a dressing here for every palate.
All of these recipes are super easy to make, so no excuses! Your taste-buds will be doing the happy dance, trust me!
Simple Raw Garlic Salad Dressing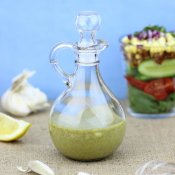 You like garlic? You got it! This Simple Raw Garlic Salad Dressing will rock your socks off (if you're wearing any!). With 3 cloves of garlic, this dressing is not for the faint of heart!
On the second day, it takes on a thicker, creamier texture, reminiscent of Caesar salad dressing. Yum!
Raw Ranch Dressing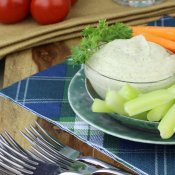 If you're missing 'real' ranch dressing, then you have to try this Raw Ranch Dressing! You won't know the difference! Oh so cool and creamy, this dressing is perfect for your pile of greens, or used as a scrumptious veggie dip.
Cashews are the surprising key ingredient in this recipe.
Raw Vinaigrette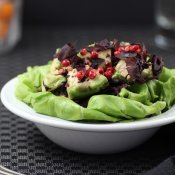 For the purists at heart, here is a simple and delicious Raw Vinaigrette. Its taste is just a little sweet & tangy, perfect for splashing on a fave recipe of mine, Avocado Dulse Salad.
This dressing keeps up to 5 days in the fridge.
Raw Strawberry Vinaigrette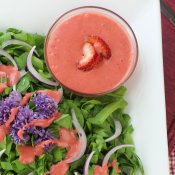 Here's a lively vinaigrette for you: Raw Strawberry Vinaigrette. Strawberries add a delightfully sweet counterpart to the tartness of the apple cider vinegar. No added sweeteners are required.
With only four ingredients - strawberries (of course!), olive oil, apple cider vinegar and sea salt, this salad dressing is a breeze to make.
Raw Red Pepper Dressing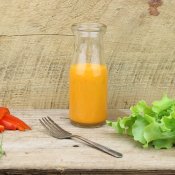 This Raw Red Pepper Dressing tastes as good as it looks! A little zingy but only subtly so, it's the perfect complement to a big tossed salad.
Ginger and garlic give this recipe its exceptionally great taste!
Splash It On!
With recipes like these, you won't be missing the SAD (Standard American Diet) dressings you used to love. Which one will you try first? Hard decision - they're all so good!