If you're like me, salads are a daily part of my raw regime. There's nothing better than a big 'ol salad crammed full of my favorite goodies. No, wait, there is something better - a big salad decked out with one of my favorite salad toppers!
A salad topper turns your standard salad into a hearty (and extra tasty) meal! You're not sure what a salad topper is? Then read on, my friend!
Raw Egg Salad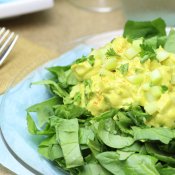 How can the words 'egg salad' and 'raw' be used in the same sentence? Make this mock cashew-based Raw Egg Salad and you'll soon find out! This recipe has both the texture and taste (it's true!) of the 'real' egg salad. It's rich and creamy, and so, so good.
Serve on top of crunchy romaine leaves for optimum taste experience!
Raw Tuna Salad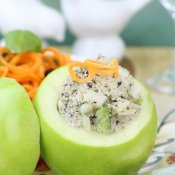 This sunflower-based Raw Tuna Salad makes for a superb salad topper. The key ingredient is dulse - this is what gives it its tuna-like flavor.
This is one of my fave recipes, so check it out!
Raw Walnut Pate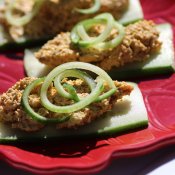 For something extra tasty, top your salad with this Raw Walnut Pate. The secret ingredient is soy sauce, plus it contains goodies like walnuts, carrots and onions.
Smooth, salty and savory, this pate has it all!
Raw Taco Meat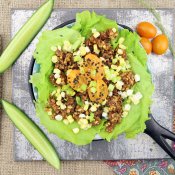 Walnuts, sun-dried tomatoes and spices unite to create this awesome Raw Taco Meat recipe. This is one of my go-to recipes, and I've never tired of it (nor has my husband!).
Upgrade your salad with this topper, and your tastebuds will thank you!
Raw Vegan Chicken Salad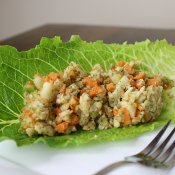 This Raw Vegan Chicken Salad is just packed with scrumptious tidbits! Cashews, sunflower seeds and pecans are just a few of the key ingredients. It's the texture that gives this recipe its 'chicken-y' feel!
The perfect salad topper, or just wrap it up in lettuce leaves. Either way = yum!
Decisions, decisions...
Dontcha think it's time to jazz up your next salad with one of these scrumptious salad toppers? They're easy to prepare and easy on the tastebuds! The only hard part will be deciding which one to make!