Craving some healthy sweetness right about now? Need some ideas for dessert tonight? Then take a gander at this fab selection of simple, fruit-based raw vegan desserts that will leave you wanting more!
Strawberries, raspberries, apples, oranges and bananas: something for everyone!
Raw Strawberry Shortcake Pies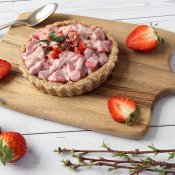 Oh my gosh, these Raw Strawberry Shortcake Pies are simply divine (and beautiful to look at!). Cashews, coconut, and dates transmogrify into a delicious crust, while strawberries, cashews, and coconut oil are 3 of the ingredients in the yummy filling.
Impress your guests with these easy-to-make delightful raw strawberry treats!
Raw Raspberry Crumble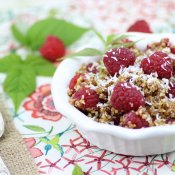 If you're craving raspberries, then why don't you whip up this delicious Raw Raspberry Crumble. Coconut, walnuts, dates, and salt comprise the easy-to-make crumble, then toss in your fave berry, in this case - raspberries!
To rev up the flavor a notch, top with a dollop of Raw Whipped Cream!
Raw Apple Crumble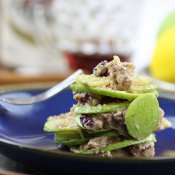 Here's a unique take on the traditional fruit crumble. If you're an apple fan, then you'll love this Raw Apple Crumble! Super easy to make, and surprisingly buttery-tasting!
Tip: you can store a batch of your dry "crumble" in a ziploc bag in your pantry for a few days.
Raw Orange Chia Seed Pudding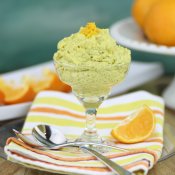 If you're in the mood for a smooth, sweet treat, then try this Raw Orange Chia Seed Pudding! Chia seeds thicken this pudding to its creamy consistency. Also in the mix: cashews and of course, oranges!
I love this pudding - it's reminiscent of an orange creamsicle!
Raw Banana Cream Pie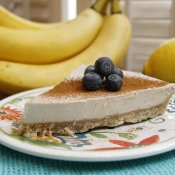 This Raw Banana Cream Pie is guaranteed to be a hit. With a cashew/coconut/date crust and creamy banana filling, this pie is both delicious and simple to make.
Keep one on hand in the freezer for dessert or guests or... midnight emergencies!
This Fruit's for You!
Hope you've enjoyed checking out these fruit-based raw vegan desserts! Any particular one strike your fancy?
The great thing about these recipes is that they're easy-to-make and they're good for you. Win-win!