There are a number of reasons why many of us just love chocolates and even more reasons why we should eat raw chocolates. Isn't it just music to your ears when you hear that something that tastes so wickedly good is actually really healthy for your body?
Yes, raw chocolates are in fact very rich in antioxidants and many other vitamins and minerals like magnesium. And the best part is you can make lots of very easy and very yummy raw chocolate recipes right in your own kitchen! Let me share with you some really good ones that you can try at home.
Raw chocolate fudge in 1-minute. No equipment!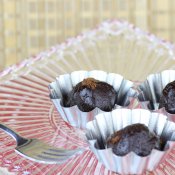 Chocolate treats that are so easy are definitely a perfect fix for sudden sweet tooth cravings. You can whip up this raw chocolate fudge in one minute and you don't even need to sweat or need any equipment at all. All you need to do is mix coconut oil, honey, and cocoa powder… and enjoy eating! That's just how simple and fast it is.
No equipment required to make chocolate haystacks.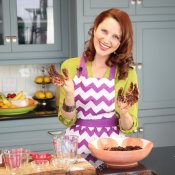 Another easy, yummy treat you can add to your list of raw chocolate recipes is this sweet, no-equipment-required raw chocolate haystacks recipe. It's great to have quick and uncomplicated confections like this around. Just put coconut oil, maple syrup, raw cocoa powder, pure vanilla extract and sea salt in a bowl and mix well. Once it's blended, add the shredded coconut and continue mixing until the mixture is well combined. The next step is to form them into small mounds, place on a plate (optionally, you may want to roll them in shredded coconut too), and store in the freezer for at least half an hour. These chocolate haystacks are best eaten right out of the freezer.
Make traditional chocolate bars with a blender.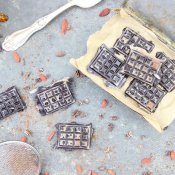 This recipe is very basic and easy, yet tastes absolutely great. Simply mix coconut oil, maple syrup, raw cacao powder, and pure vanilla extract in a blender. (You can also whisk the ingredients in a bowl.) Also make sure your coconut oil is in a liquid state before you start mixing. Once the mixture is well blended, pour it into molds or into a glass dish and place in the freezer. Easy peasy. You may also want to add your own twist to your raw chocolates recipe by adding nuts or raisins to make it more interesting.
Make white chocolate with a food processor.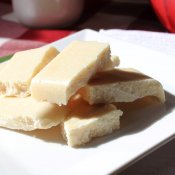 This recipe might be a little confusing because there isn't even any chocolate in it at all. But trust me, the raw white chocolate bars you end up with after making this recipe are really sweet and quite surprisingly white chocolatey-ish. First (and very important instruction), you need to process dried shredded coconut alone in a food processor until it becomes moist. This can take quite a while! When it does, add maple syrup, vanilla extract and sea salt, and continue processing until the mixture becomes rather wet/oily in consistency. Put the white chocolate mixture into molds or a shallow dish and press down firmly. Freeze for at least 30 minutes before serving. If you visit this recipe directly, you can watch me make these white chocolates on video.
Raw truffles ready in minutes with your food processor.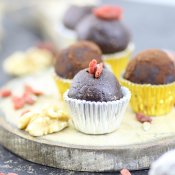 Truffles! Yum! Here's how you can make this awesome raw chocolate truffles recipe in few easy steps. Put walnuts and sunflower seeds in a food processor and blend well before adding dates, sea salt and raw cocoa powder. Continue processing until the mixture thickens and holds together. Finally, roll it into small balls and serve. If you prefer it to be a little fancier, you can also roll the truffles into shredded coconut or raw cocoa powder.
Which raw chocolate recipe will you make next?
With all these mouthwatering raw chocolate recipes, I bet it's now even harder to resist such sweet yet healthy goodies, yes? You don't really have to. Just go ahead and indulge! Of course, it's always best to keep in mind that moderation in all things is most important. But whatever you do and whichever recipe you decide to make, remember to have fun!