There are times when even raw vegans just miss eating meat, especially when you're still a newbie transitioning from a non-raw diet. You feel the craving for that meat texture your palate had been used to for so many years.
But don't despair just yet because these raw vegan meatless recipes will help you forget about eating animal products and think about raw food the next time a craving crosses your mind. And by mock meat, I mean all natural and no processed food involved. Completely vegan and meatless, of course!
Raw mock "tuna" salad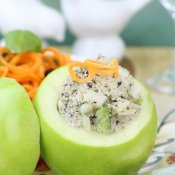 This raw tuna salad recipe's flavor comes from its vital ingredient – seaweed. Before making this recipe, presoak the seeds in lukewarm water for an hour or so and rinse them well. Get rid of all the water and place all the tuna pate ingredients in a food processor.
Process on high until the pate mixture becomes very smooth. You may serve this raw tuna pate with some chopped onions, parsley, crackers or even an apple. Be creative and find the perfect combination that suits your taste.
Raw walnut pate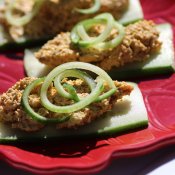 This is one savory raw vegan dish you'll surely love. It's quick to make and tastes so good it won't last for too long.
Set aside the soy sauce first and then process the rest of your raw walnut pate ingredients in a food processor until smooth and cream-cheese-like. Add the soy sauce (important!) to the mixture and process again for a bit more. Scoop the pate on cucumber rounds (cracker-style) and they're ready to eat!
Raw taco filling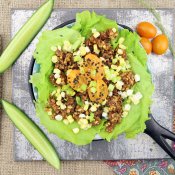 If you're still having a hard time transitioning to raw food, it's great to have flavorful vegan "meat" like the raw taco meat recipe once in a while. It really helps satisfy that sudden craving. This recipe's ingredients are sundried tomatoes soaked in oil, walnuts, olive oil, chili powder, cayenne pepper, and sea salt.
Simply mix all the ingredients in a food processor until you reach a nice taco filling consistency. I like serving mine on romaine lettuce topped with tomatoes and fresh sprouts.
Raw vegan mock "chicken" salad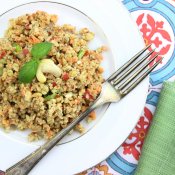 So maybe this raw mock meat vegan recipe doesn't taste chicken-like, but I tell you, the texture is so much like chicken salad! And it's really comparably tasty in its own raw vegan food right. You'll need a food processor for this raw vegan chicken salad recipe.
Dump all the ingredients into your food processor and process for only a few seconds. It should still be chunky and not over-processed. Transfer the chicken salad onto a plate and eat up! It's best to eat it right away because it doesn't keep well for long. However, you may let it sit for about 30 minutes after processing to allow the flavors to combine. You may also serve it in lettuce wraps and top with optional slices of avocado.
Raw fake "bacon" lettuce tomato sandwich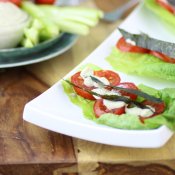 Do you miss the texture of bacon? Thought so! But you don't have to go back to eating the typical fatty and oily bacon. This raw bacon lettuce tomato sandwich may not have anything that looks remotely like bacon, but you will be astounded at just how much dulse seaweed can parade as bacon!
To make you very own vegan BLT sandwich raw style, just spread raw mayonnaise or raw ranch on a piece of romaine lettuce, add sliced tomatoes, and finally the dulse seaweed. Put together only when you're ready to eat for the best raw fake "bacon" experience.
Raw vegan mock meat recipes
Now that you have a list of raw mock meat vegan recipes in your arsenal, whenever you're having a difficult time during your transition or if you simply want to spice up a recipe with a traditional texture sometimes, you can make one of these standby raw mock meat recipes instead. Before you know it, you'll probably never even entertain thoughts about meat anymore. Seriously!