Getting started on a raw food diet may sound like too much work with all these tasty-looking photos of raw food that look like they went through a complicated and time-consuming process. Out of all the raw food recipes out there, it may seem quite hard to pick out which recipe you should start on. But you don't have to end up settling for a typical raw salad! You may be surprised to discover there are actually really easy raw food recipes to prepare. And easy raw recipes are exactly what you need if you're new to eating raw food.
Here's my list of the top 5 easy raw food recipes that I bet would make you proud of yourself after making and succeeding on your first attempt.
Rawtarian's silky green smoothie recipe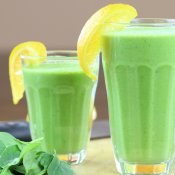 A yummy green smoothie is always such a treat. You just put in bananas, oranges, and an apple in a blender together with water, lemon juice, cinnamon, and chia seeds. But wait! Don't forget the spinach (especially the spinach) since that's what makes it green.
Spinach may seem like a strange ingredient to add to a smoothie, that's why it's essential you have a high-speed blender like a Vitamix or a Blendtec for making tasty green smoothies with a silky texture.
Raw banana cream pie recipe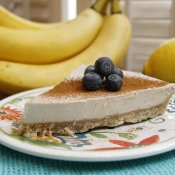 A conventional pie would be baked in an oven. However, since this is a raw food recipe, there is no such thing as baking involved in making this delicious raw banana cream pie. What you will need is a freezer.
But before that, you have to start with the crust. Just mix all the crust ingredients in a food processor or blender until it sticks together. Press down the mixture in a glass dish to make the crust. After blending all the banana filling ingredients to a smooth and creamy mixture, pour it onto the crust, cover it, and let it freeze. Now you just have to wait for it to actually freeze, and then you can indulge yourself in a healthy banana cream pie.
Raw walnut pate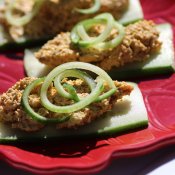 Successful raw food recipes don't have to always be sweet. You can let your tastebuds enjoy the smooth and salty flavor of a very easy and quick to prepare raw walnut pate.
In this recipe, you will need to soak the walnuts first for at least half an hour and then rinse. Process all the ingredients in a food processor, making sure to only add the soy sauce near the end of the processing, and serve it on cucumber rounds. The soy sauce is a vital ingredient that brings out the flavor in this dish. So never prepare this easy raw food recipe without it.
Raw chocolate fudge in 1 minute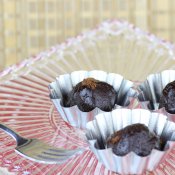 This raw chocolate fudge recipe is probably the easiest and quickest raw food to make among the five in this easy raw food recipes list. You just need cocoa powder, coconut oil and honey together in a bowl. Yes, seriously, those are all the ingredients you need. You don't even have to stay in the kitchen to mix them! Just be careful with the measurements though, as you don't want to add a little too much of any ingredient. This simple raw chocolate fudge is a sweet treat you can enjoy anytime.
Raw brownie recipe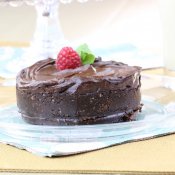 Here's another chocolatey yet healthy delight for your tastebuds. In this raw brownie recipe, you need to crush the pecans first in a food processor before adding the dates. Blend them together to form a sticky mixture and then add the rest of the ingredients to be processed. Remember, it's important that the mixture not get too buttery by over-processing. After processing, you can chill it in the fridge or serve it right away. My raw brownie treat tastes so good you wouldn't even know it was made of only raw ingredients unless you made it yourself.
Which recipe will you choose?
Alright, there you have it: my top 5 easy raw recipes. Now that wasn't so hard, was it? One great thing about preparing raw food is that you don't really need many kitchen tools. Most of the work is done by your food processor or your blender---or sometimes just your hands and a spoon. And you don't have to wait too long either. You can whip up a delectable and healthy raw dish in just a matter of minutes.
Getting into the raw food diet isn't as daunting now, is it? Not only is this easy to prepare raw food recipes list good for raw food newbies, but also for everyone who's too busy to bother with staying too long in the kitchen. So go ahead and try making these easy raw goodies and enjoy the surprise of making healthy dishes that taste delicious and don't take too long to whip up.