Simple raw food recipes are the best raw recipes hands-down.
It's no secret that a raw diet requires a bit (or a LOT!) of planning and some advance preparation for certain dishes. However, that doesn't mean that your raw food recipes have to be complicated—in fact, quite the contrary is true! Eating a raw diet is definitely part of a lifestyle, but preparing meals doesn't have to consume your life.
Simple raw food recipes should be the back-bone of your daily eating routine, and here are four reasons why simple raw recipes are best:
1. Simple raw recipes save time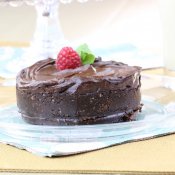 A huge trap for people eating a variety of diets—from SAD all the way to vegetarians and vegans—is reaching for pre-packaged convenience foods. Why? Because they require little to no time to prepare, and can be easily transported when you're on the go.
By loading your arsenal with simple raw food recipes and utilizing a little menu planning, you can prepare simple, versatile foods to grab throughout the week, as well as have plenty of choices for when you need to whip something up quickly (or satisfy a craving)!
Try this simple raw recipe: Raw brownies in 10 minutes
2. Simple raw recipes mean that you'll stay versatile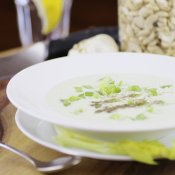 Most people thrive on variety (it is, after all, the spice of life), and it should definitely not be neglected in your diet. When making a drastic dietary change, it can be easy to get stuck in a flavor-rut, but by familiarizing yourself with simple raw food recipes you will open yourself up to a whole new world of raw culinary delights. The obvious beauty of following simple recipes is efficiency and easy, non-intimidating prep. However, as you master fundamental techniques and get comfortable with the raw diet staples and basic recipes, you can begin to experiment with different flavor combinations to create delicious and truly unique dishes.
Try this simple raw recipe: Creamy celery soup in 10 minutes
3. Simple raw recipes are maintainable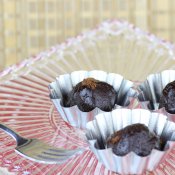 Blending, pureeing, chopping, chilling, dehydrating, sprouting, planning—it can become overwhelming if every meal is a chore. By having a strong foundation of simple raw food recipes to fall back on, you can take a break from heavy-prep and more time-consuming recipes without falling off the wagon. Knowing that you can take it easy while still maintaining your raw diet is crucial to your success. And it doesn't hurt to know that you can whip up some 1-minute raw chocolate fudge on a moment's notice, either!
Try this simple raw recipe: Raw chocolate fuge in 1 minute
4. Simple raw recipes are best because success is contagious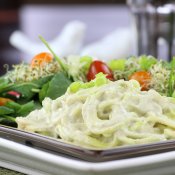 You'd be hard-pressed to find someone who isn't interested in hearing the secrets to your success—how you lost the weight, cleared up your skin, seem to have so much more energy—but much of our society is focused on quick-fix solutions and low-effort trends. The real "secret" is that there are no magic pills or food sprinkles that will make you feel as incredible as going raw will. And with simple recipes to follow, and real results to motivate, sharing this message is easy!
Try this simple raw recipe: Raw alfredo sauce
Find your own favorite simple raw recipe
Looking for simple raw recipes to start your raw journey? Check out The Rawtarian's Raw Recipe Index, for simple, satisfying raw recipes. Whether you are just beginning your raw food journey, or you're a seasoned veteran looking for something new (raw carrot cake, anyone?) you're sure to find something to delight your taste buds!