Holiday recipes usually conjure up visions of mashed potatoes, stuffing and pumpkin pie. Am I right? Well, you can have these recipes (and more!), raw vegan style! No need to deprive yourself of seasonal favorites, plus your guests will love them, too! I myself cannot do without raw eggnog during the festive season. Must have my eggnog!
So, without further ado, here are my favorite top raw vegan holiday recipes:
Raw Eggnog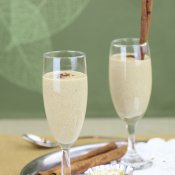 Serve your guests a glass of this delicious Raw Eggnog. Oh so rich, this eggnog will soon get them into the festive spirit. Cashews, dates, and coconut oil are (crazily enough!) the main ingredients in this easy-to-whip-up recipe.
Just blend and serve immediately, and listen to the cries of delight!
Raw Mashed Potatoes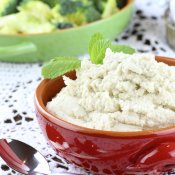 Every holiday meal has to have mashed potatoes, even a vegan meal! This Mashed Potato recipe is hearty and filling with a garlicky flavor. In case you are wondering, no raw potatoes here! These mashed potatoes are cauliflower and cashew based.
Make sure to include raw mashed potatoes as part of your festive meal!
Raw Stuffing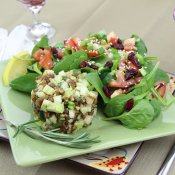 Walnuts, dates and celery are the key ingredients for this scrumptious Raw Stuffing. Include this stuffing at your next holiday meal - your guests will be asking for seconds!
Bonus: you can make this recipe in advance.
Raw Cranberry Relish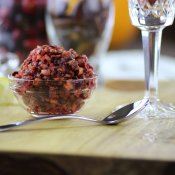 What's a holiday meal without cranberry relish? This incredibly simple Cranberry Relish recipe has just two ingredients - cranberries (of course!) and dates. It's also super tasty, and a must-have for your table.
For extra oomph and color, you can add a diced orange. Yum!
Raw Pumpkin Pie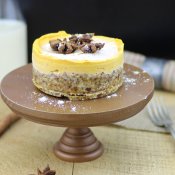 Eating raw does not mean giving up your favorite foods. Whip up a Raw Pumpkin Pie for a holiday dessert. This pumpkin pie is light and creamy, and oh so good!
Keep this pie in the freezer. When you want to impress your guests, just pull it from the freezer, slice and serve!
Holiday favorites, raw vegan style...
Which of these recipes are you going to make this holiday season? As you can see, being a raw vegan does not mean depriving yourself of old favorites. And these recipes are so good, you can serve them to your non-raw guests with confidence.
And if you're making raw eggnog, I'll be right over!