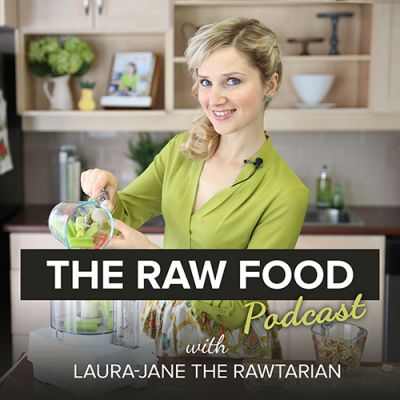 The Raw Food Podcast is a free radio show hosted by Laura-Jane The Rawtarian. You'll find tons of raw food info and healthy inspiration in Laura-Jane's podcasts... and they are free to listen to.
There are several ways to listen to a podcast:
You can play the podcast directly from within the episode.
You can download the MP3 (link provided in the episode).
You can also "subscribe" to The Raw Food Podcast in iTunes using your Apple smartphone, iPad, etc.
If you have an Android device, you can also use a podcast app - Laura-Jane uses the free "podkicker" app - where you then search for "raw food podcast."
Raw Food Podcast Episode Guide
Raw Recipes:
RFP06: Raw alfredo sauce - In this podcast, Laura-Jane describes how to make a scrumptious cashew-based raw alfredo sauce.
RFP14: Raw Pizza - In this episode, Laura-Jane explains how to make delicious raw pizza!
RFP10: Raw cheese - Laura-Jane explains how to make raw cheese in your blender. She also dispels the myth of 5-day cheese.
RFP11: Raw veggie burgers - In this episode, Laura-Jane tells you how make delicious raw veggie burgers in your dehydrator!
RFP03: Green Smoothies, Oh Yeah! - Laura-Jane dishes all the dirt on green smoothies! What's in them, what do they taste like, why cleaning your blender immediately is so important, and much more.
RFP27: Nut milks - Laura-Jane the Rawtarian talks about making nut milk. Topics covered: nut milk bags, cashew and almond milk, & making recipes with leftover almond pulp.
RFP20: Raw Soup - Don't shy away! - In this episode, Laura-Jane debunks the myths about why some people shy away from raw soups. She also shares the simple trick that ensures your raw soups are delicious every time straight out of the blender!
Raw Sweets:
RFP01: Raw Brownies - Laura-Jane shares her wonderful raw brownie recipe in this sweet episode!
RFP19: Raw Cakes - How to make 'em! - Laura-Jane offers very practical advice about how to make raw cake. She discusses a variety of options, including raw refrigerator cakes, raw freezer cakes and dehydrator cakes.
RFP12: Top Desserts in the Raw - In this episode, Laura-Jane shares the inside scoop on making raw desserts, five different types of raw desserts, and talks a bit about her raw dessert book.
RFP26: Frozen Raw Desserts - Laura-Jane The Rawtarian explains how to make raw frozen desserts such as raw fudge, raw chocolates, raw pies, raw cheesecakes and raw ice cream!
Raw Discussions:
RFP08: Finding Balance - Vegetarian, Vegan, Raw - Laura-Jane's husband, Cameron, shares how he started out as a vegetarian, and then moved to vegan and now to high raw. He brings a practical perspective to healthy eating and shares some great tips on how to find balance in your life.
RFP09: Get off the bus! - Laura-Jane shares a powerful story about "riding a bus" as a metaphor for healthy eating. Lots of inspiration for helping you deal with people in your life who are not supportive of your way of eating.
RFP33: Raw or Not! - In this episode, Laura-Jane shares general principles shared by the raw food community regarding which ingredients are raw or not. She also answers FAQs regarding raw food.
RFP32: Decision-Free Living - Laura-Jane shares the concept of "decision-free living" and how implementing a simple rule can help you make better food decisions every single day with way less mental effort.
RFP24: How raw food changed my life - In this episode, Laura-Jane tells a longer version of her story of how she went raw many years ago and hasn't looked back since. What makes her story unique is that she had no plans of going raw for the long term!
RFP25: New year, new you - Laura-Jane The Rawtarian ponders our love/hate relationship with new year's resolutions. She then details 3 changes you can focus on to help you make lasting change in your life when it comes to food.
RFP13: Vegan Protein - Laura-Jane shares a simple concept of what protein is and where you can get proteins in a plant-based, vegan diet.
RFP23: How to eat healthy every day - In this episode, Laura-Jane shares some thoughts & tips about emotional eating. Set yourself up for success by applying these tips to your raw food lifestyle!
The Rawtarian:
RFP15: Recipe Organization - App Launch - In this episode of The Raw Food Podcast, Laura-Jane talks about how she uses her recipes (cookbooks, printouts, eBooks, etc.). She and Cameron (her husband) also chat about The Rawtarian's Raw Recipes app.
RFP29: Zen and the Art of Cookbooks - In this episode, Laura-Jane celebrates her new print cookbook, which is a major milestone in her life. But this episode is more about the zen of achieving big goals (like publishing a cookbook or losing a substantial amount of weight or achieving another big "event") than about the cookbook itself.
Raw Kitchen
RFP07: Raw Appliances - Laura-Jane explains the order in which she purchased her raw food kitchen appliances, including cheap blender, food processor, high-speed blender and dehydrator. She also briefly touches on secondary appliances like spiralizers and juicers.
RFP16: How to Dehydrate - In this episode, Laura-Jane tells you how to successfully dehydrate!
RFP04: Food Processing - Laura-Jane dishes all the dirt on making raw food recipes in a food processor! What's a food processor, how is it different from a blender, do you need both, and some examples of recipes you can make in a food processor.
Raw Tips & Techniques:
RFP30: Simplify your own recipes - Learn how to simplify recipes yourself! Laura-Jane outlines the main types of ingredient categories (sweeteners, thickeners, creamers, binders) & shares her top tips for ingredients you can eliminate to simplify your raw recipe!
RFP02: How To Eat Raw on a Budget - In this episode, Laura-Jane The Rawtarian provides four tips on how to eat raw on a budget.
RFP31: Traveling and Eating Healthy - In this episode, Laura-Jane shares her tip & tricks for staying healthy 'on the road.'
RFP35: Sprouting The Easy Way - Learn how to grow fresh sprouts using only a mason jar, some cheesecloth, and sproutable seeds! For detailed instructions, check out her written instructions here.
RFP05: Nut Substitutions - Laura-Jane goes into detail on how to make nut substitutions in raw food recipes. She outline three main groups of nuts/seeds: creamy nuts, flour-like nuts, and oily nuts.
RFP34: Healthy Sweeteners - Laura-Jane outlines which raw sweeteners she uses, including fruits, maple syrup, agave nectar, unpasteurized honey and stevia. Also, at the end of the episode she discusses low-glycemic and high-glycemic sweeteners.
Raw Guests:
RFP21: Guest David Backus, Raw Chef - In this episode, Laura-Jane chats with David Backus of Local Organic Lunch, a raw food accessible eatery in Denver, Colorado. They also discuss how important it is to visit your local raw and organic food vendors.
RFP22: Guest Jinjee from The Garden Diet - In this episode, Laura-Jane speaks with Jinjee Talifero, a homeschooling mother of 5 raw vegan children, the co-founder of www.thegardendiet.com and author of "Raising Raw Vegan Children."
RFP28: Guest Gina Silvestri - Laura-Jane interviews Gina Silvestri, a Life Coach, radio host and Certified Reiki Practitioner. Seven years ago, Gina weighted 300 pounds and had 17 official medical diagnoses. She healed herself naturally through raw food.
RFP18: Guest Jodi Lebrun, Holistic Life Coach - Laura-Jane talks with Jodi Lebrun in this episode. Jodi is a Holistic LIfe Coach and a Yoga Lifestyle Educator whose passion is helping women to re-connect with themselves through Yoga, Ayurveda and Creativity.
RFP17: Guest Andreea Fegan from Little Bites of Joy - Laura-Jane interviews Andreea Fegan. Andreea is a certified Raw Chef and Raw Foods Teacher (Levels 1-3), and a graduate of the Institute for Integrative Nutrition, affiliated with SUNY. She also offers classes and workshops on raw and vegan topics.