In a rush, and want dinner fast? With work and family and life happening around us 24/7, sometimes it seems like such an effort to make a meal. Don't let yourself go hungry, or grab something that isn't good for you (like chips or cookies!).
The next time you want food NOW, test-drive one of these recipes. Each one takes only 10 minutes or less to prepare!
Raw Cream of Celery Soup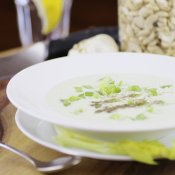 For a quick light meal that satisfies, try this Cream of Celery soup. Toss the ingredients in your blender and blend well... And that's it! A 5-minute meal that's a cinch to make. Cashews make this soup creamy - no dairy here.
For a more filling meal, serve with a handful of Basic Raw Crackers.
Raw Salmon Salad Pate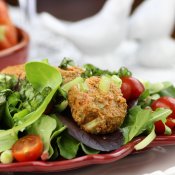 Sounds complicated, right? Not! This Salmon Salad Pate is a breeze to make with no prep required. Sunflower seeds provide the base for this delicious spread.
This is dee-lish served on a bed of salad greens, with maybe a splash of cider vinegar for a bit of tang. Yum!
Raw Walnut Pate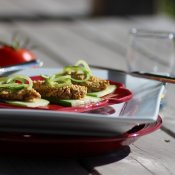 Who knew a Raw Walnut Pate could taste this good! All you need is 10 minutes, a few ingredients, and dinner is ready! Serve on crackers or onion bread or cucumber rounds (my fave!).
Soy sauce is the 'secret' ingredient that makes this recipe pop!
Raw Egg Salad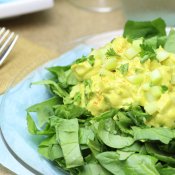 This is what you've been waiting for: a fantastic cashew-based Raw Egg Salad recipe that actually tastes like egg salad! And only 5 minutes to prepare!
Serve on a bed of romaine lettuce and dig in. Instant happiness!
Raw Marinated Mushrooms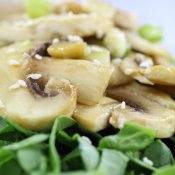 Crazily enough, these Raw Marinated Mushrooms have the texture of cooked mushrooms. And they're so fast to prepare - all of 5 minutes!
Toss these into a big green salad for extra oomph. Or nosh them on their own. Either way, you'll enjoy these little bites of bliss!
Dinner in a snap...
So the next time you're hungry and in a hurry, don't reach for the junk food. Take a deep breath, chill out, and throw together one (or more!) of these recipes.
See? Fast food CAN be good for you!