When making raw dishes that use a dehydrator, I usually make savory recipes way more than sweet recipes. This is because dehydrator recipes take many, many hours to dehydrate! But when making sweet recipes, there are many quicker and easier ways to make raw desserts without having to use a dehydrator. But if you don't use a dehydrator when making these dehydrator recipes, it would be impossible to achieve that satisfying texture of raw breads and crackers.
So here's my list of easy raw food dehydrator recipes that you can make in your dehydrator. I know you'll be delighted with the results. I promise you'll find the long hours worth the wait after you've tasted these healthy and savory treats.
Raw pizza crust recipe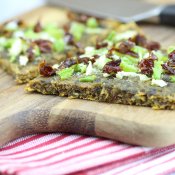 Most of the raw pizza crust recipes out there have too many ingredients and too many steps to follow. But in this dehydrator recipe, I came up with a very easy to make raw crust for your pizza.
In this raw pizza crust recipe, the first and most important step of all is you have to process the almonds until they become as fine as flour. Put the almond meal in a bowl and mix it with the rest of the ingredients to make your pizza dough. Then you can shape your crusts into circles or triangles, put them on parchment paper or Teflex sheets in your dehydrator and dehydrate them on high for 1 ½ hours. After reducing the temperature to 105 degrees, dehydrate for another 7-10 hours, making sure to remove the parchment/Teflex and flip the crusts over halfway through the dehydrating process. Once they're all dry, store the crusts in a Ziploc bag and put them in the freezer. Now you have raw crusts ready anytime you want to make raw pizza!
Raw veggie burger recipe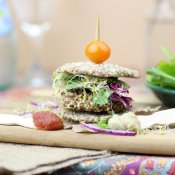 You would probably wonder how a veggie burger could taste so savory and tasty. Well, this simple raw food dehydrator recipe will surprise you with its flavorful and moist raw patty. Except for hemp hearts and chopped veggies, just mix all of the ingredients together in a food processor and transfer it into a bowl, where you can add the rest of the ingredients. When the mixture is thoroughly combined, form the patties and place them on the dehydrator trays lined with parchment paper, and make sure they don't touch each other. Set the dehydrator on high for 1 ½ hours then reduce the heat and dehydrate for 5 more hours. You can remove the parchment paper when the patties are firmly holding together. Continue dehydrating until they reach your desired consistency. Pair the veggie burgers with your favorite bread or cracker, and there you have your delicious raw veggie burger!
Raw onion bread recipe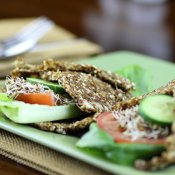 Now here's a raw food dehydrator recipe that doesn't need too many ingredients, but can make enough for three Excalibur trays. Start by processing the sunflower seeds into a fine meal, set aside, then process the peeled onions in a food processor, but make sure they don't turn mushy. Using a spoon, mix the onions with all of the other ingredients in a large bowl and spread them onto parchment-lined dehydrator trays. For the first hour, dehydrate the bread at 120 degrees before reducing the heat to 105 degrees for the next 6 hours. Remove the parchment at some point before it finishes dehydrating and flip the bread over. You can dehydrate it for another 4 hours or longer if you want it to be crispier. It's really all up to you how you want your savory raw onion bread recipe to turn out, so go ahead and try them!
Raw flax cracker recipe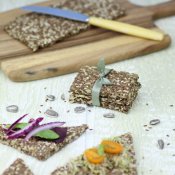 Yes, it's yet another raw flax cracker recipe. But hold on! It's quite different I should say, because not only does it taste awesome, it's also really easy to make with just a few ingredients. All you need to do is process all of the ingredients in a food processor, and when it becomes well blended but still chunky, spread the mixture onto two dehydrator trays lined with parchment/Teflex. Put them in the dehydrator at 115 degrees, and after an hour score the crackers with a knife, then reduce the heat to 105 degrees. After dehydrating for another 6 hours, flip the crackers, remove the parchment/Teflex, and dehydrate for another hour until they become cracker-like. I know it's tempting to nibble, but try to wait until they're done so you can enjoy your tasty raw flax crackers!
Start dehydrating now
These are just a few of my raw food dehydrator recipes that you can try out if you are new to using a dehydrator. They are quite simple yet very savory, and I'm sure you'll try making these recipes over and over when you get the hang of using your dehydrator.
Need a dehydrator? Check out The Rawtarian's recommended appliances here.