Easy raw recipes - Are you looking for some? Well, of course you are. Why slave around in the kitchen when quick'll do? Lol
Going raw may seem daunting but there are some amazing, easy raw recipes out there. I should know, I've been collecting and creating them for years now. (Shudder - this must mean I am getting old!) While the raw food lifestyle does require a bit of advanced planning (okay, a LOT of advanced planning when compared to stopping off at McDonalds!), the good news is that there ARE some delightful raw recipes that can be thrown together fast with ingredients that you likely have on-hand.
Check out these 4 easy raw recipes—you'll be surprised at how quick and simple they are to prepare. Whether you're looking for something savory or sweet, I've got lots of easy raw recipes to satisfy almost any craving! Well, except for a craving for garlic bread, but I AM WORKING ON THAT ONE! (Stay tuned!)
Raw brownies in 10 minutes!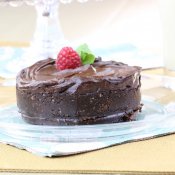 With six simple ingredients, a few minutes with your food processor, and a bit of chilling in the refrigerator, you will have mouthwatering vegan raw brownies that taste like the real thing. This versatile, easy raw recipe can also be used for a raw chocolate pie crust or raw chocolate truffles.
Oh ya, and don't forget the icing :) Actually, this is the most visited page on my entire website (and I've got over 100 easy raw recipes here, people!)
Raw lunch salad
If you're in a rush putting your lunch together before work, or just looking to switch up your usual raw lunch fare, look no further than this delicious avo-carrot-tom salad.
It doesn't get any easier than a couple of carrots, a tomato, and an avocado—and this salad dresses itself with the juices from the tomato and the creaminess of the avocado so no complicated raw dressing is required. The flavors blend together beautifully, and the texture contrasts make this an exciting, satisfying meal. Perfect to grab on your way out the door to work.
Strawberry banana bowl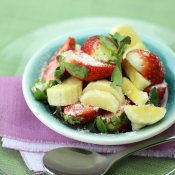 Whether you're looking for a quick, delicious breakfast or an easy snack to satisfy a sweet tooth, this simple strawberry banana bowl recipe is sure to please. Topped with a tasty raw nut milk, and perhaps a sprinkling of cinnamon, this delightful dish will whisk you back to your childhood—especially as you drink the fruit-sweetened milk at the end.
Love it. Am I suppose to say "Love it" about my own recipes? Well, this is my blog so I can if I want to! Lol
Raw guacamole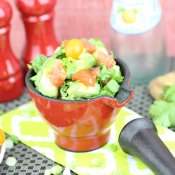 This is the way guacamole was meant to be made—with fresh, healthy ingredients and an amazing flavor!
This raw guacamole recipe is so delicious it can be enjoyed on its own, as a topping on simple salads, or as a dip to enjoy with raw corn chips or raw crackers. And it's definitely a crowd-pleaser.
Which one will you try?
These four easy raw recipes are delicious, quick to make, and will add a wonderful variety to your simple raw recipe arsenal. Why not try one of them now. What are you waiting for? Go! Now! Get thee to a kitchen!