Desserts – most people's (if not everyone's) favorite course of meal. They're usually the best kind of raw food you show off to entice your non-raw friends, too! A lot of my raw food recipes are desserts, and some of the top-rated raw desserts I've shared are loved by many. If you haven't tried them yet, I'm positive you'll also find them irresistible.
Raw lemon bars recipe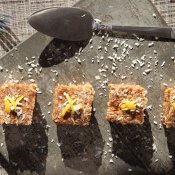 These lemony bars have a lovely lemony sweet flavor, and are perfect for an afternoon snack or quick dessert. The food processor is your best friend in this recipe, so be nice to yours! First to process are the almonds.
Process well until they turn into a fine powder. Then add dates, vanilla, lemon juice and lemon zest, and process again until well combined. Set the mixture aside. Meanwhile, mix dried coconut and salt in a large bowl. Add the lemon bar mixture into the bowl and mix once again using your clean hands. Finally, press the lemon bar dough into a glass dish and pop it in the fridge for about an hour. You can cut your scrumptious raw lemon bars into small slices before serving.
Raw cheesecake recipe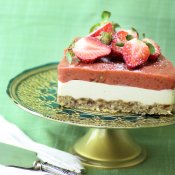 This is one of my top raw dessert recipes of all time. Time for a fancy raw dessert! For something as fancy looking as this raw cheesecake recipe, it's surprisingly easy to make.
Just process macadamia nuts, salt and dates in a food processor until well processed but still airy. Press this crust mixture down into pan sprinkled with dried coconut on the bottom. To make the raw cream-cheese filling, blend all the filling ingredients in a powerful blender, adding only as little water as needed. Pour the filling on top of the crust mixture and freeze for at least an hour. While the crust/cream-cheese is firming up in the freezer, blend strawberries and dates until nice and smooth, and pour it on top of the firm cheesecake that's been in the freezer for about an hour. Place it again in the freezer for about five more hours. Serve chilled, straight out of the freezer.
Raw brownie recipe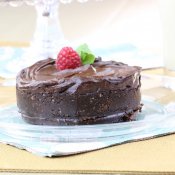 Here's the most popular of my top-rated raw desserts. This yummy raw brownie recipe tastes so much like traditional brownies it's simply "brownie-licious"! One great thing about it is it doesn't require too many ingredients, and there's none of those laborious steps either. You will need a food processor for this one.
Step one is to process pecans into small and crumbly bits. Then add your dates and process again until it combines before adding the rest of the ingredients to the mixture. Continue processing until it turns into a chocolatey brown. Don't over-process, otherwise, it will get too buttery. Firmly press down the mixture into a brownie dish using your hands and chill for a couple of hours.
This raw brownie goes perfectly well raw chocolate icing, too.
Raw chocolate chia pudding recipe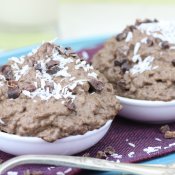 You can never go wrong with chocolatey desserts. Here's another one you can add to your growing list. You'd be amazed at how this lovely raw chocolate chia pudding recipe tastes just like melted chocolate ice cream!
To make this chia pudding, place cashews and water in your blender and blend until nice and smooth. Add cacao powder, honey/other liquid sweetener, vanilla extract and sea salt and blend again. Pour the mixture into a bowl with chia seeds and mix well. Cover it and place inside the fridge for an hour or so to allow the chia seeds to plump up and thicken the pudding.
This raw dessert gets even better and thicker the longer its refrigerated.
Raw chocolate shortbread bars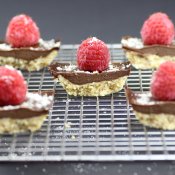 These freezer bars are a killer. (I mean that in a good way.) The zingy chocolatey flavor of these raw chocolate shortbread bars makes for a perfect (more adult) dessert.
For the shortbread procedure, process all shortbread ingredients in a food processor until well combined. Press down the mixture firmly into a pan to make your shortbread base. Next, blend all your chocolate mixture ingredients in a high-speed blender until very nice and smooth, and pour it on top of the shortbread base. Smooth the chocolate evenly with a spoon, and finally, freeze for an hour or so.
Let the bars defrost for about fifteen minutes before eating, but remember to always store them in the freezer.
Which top raw dessert will you try?
Talk about excellent healthy substitutes. With these top raw desserts, there's no need to hold back when your sweet tooth cravings kick in. These top-rated raw desserts can absolutely satisfy them. Which divine raw dessert do you love best?