Craving a raw, delicious salad? Here are three salads and a great ranch dressing that are super easy to make, which is important when you're on the run or whipping them up at work. Don't worry, you don't have to chop up a huge pile of vegetables. Raw salads work best with just a few ingredients. This way, the simple flavours meld together for maximum flavor!
For extra zip, top your raw salads with raw ranch dressing. (recipe below)
1. Avocado and tomato delight
This is my favourite prepare-right-at-work salad. Avocadoes and carrots make for a creamy/crunchy contrast – no dressing required! For a quick lunch fix, give this easy, raw salad a try. I've taken this to work literally dozens of times when I am in a rush in the mornings! Just grab an avo, tomato and a carrot and you're DONE!
2. Raw avocado seaweed salad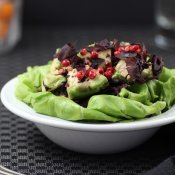 Here is a tasty, but easy raw salad. Give dulse seaweed a try if you haven't already. Optional raisins up the sweetness factor.
3. Raw ranch salad dressing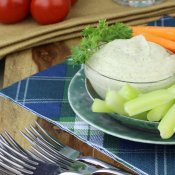 Raw ranch dressing tastes just like the 'real deal!' Satisfy your ranch craving with this easy cashew-based raw ranch dressing recipe. Toss all the ingredients in your blender… and blend. Done! And yes, it actually tastes like Hidden Valley!
4. Raw taco salad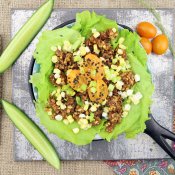 This raw taco salad recipe is one of my favorite raw salads of all time. The "taco filling" is super filling and hearty. This recipe will make you get excited about having a salad!
Which raw salad recipe will you try today?
Believe me, these raw salad recipes are fast and easy. Try one today and see for yourself! Salads don't have to be boring. They should explode on the tongue!
And remember. Simple = best. Too many flavours = a dull, brownish flavour that blends together into a blah of boring nothingness!