You've all heard of nut milk. Most of you have probably bought nut milk. But how many of you have made your own? I hear you saying, "But it sounds like too much work!"
Wrong! There is nothing simpler than making your own nut milk. Seriously! So if you haven't tried to make a nut milk yet, now is the time! Grab some nuts and let's go!
Why make your own nut milk?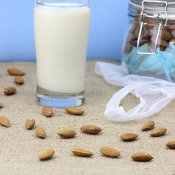 Because it is so delicious, that's why! There's nothing tastier than a glass of chilled cashew or almond milk made by your own hands! Besides, nut milk is the perfect alternative to dairy. Creamy and nutty tasting (of course!), nut milk can also be splashed on your hot or cold cereal, or used to make soups and smoothies. And of course, it is super easy to make.
There's always a container of nut milk sitting in my fridge. It's a must-have for my raw breakfast cereal!
The easiest nut milk to make... Cashew Milk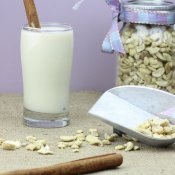 Cashew milk is the easiest nut milk to make: just toss your ingredients into the blender and blend! Try my Raw Cashew Milk Recipe. You are going to wonder how you've ever gone without it!
No nut bag required for this recipe. (p.s. You can increase or decrease the water/nut ratio depending on the consistency/creaminess you require.) Now, wasn't that easy?
Next up... Almond Milk!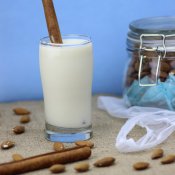 Don't let the scary term, "nut milk bag" throw you off! In this Raw Almond Milk Recipe, all you do is blend and strain. Yep, that's all! Do use a nut milk bag rather than cheesecloth. Check out this nut milk bag - see how simple it is, and cheap to buy, too!
As a bonus, you can use the almond pulp in other raw recipes!
Yes, it's that simple!
If you have a blender, you can make cashew milk. Add in a nut milk bag, and other nut milks are at your fingertips. I so recommend that you make your own nut milk. Start with the cashew milk and if you like (love!) that, buy yourself a nut bag and sample some other nut milks. You will wonder why you never tried these before!