Think you need to have 'fancy' equipment to make raw recipes? Think again! Here are some simple, delicious recipes that do NOT require a blender, food processor, or dehydrator!
Yep, no equipment required = less dishes to clean. Doesn't get any better than that!
No fuss, no muss!
Raw Breakfast Cereal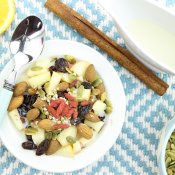 If you need to eat and run, then try the Raw Breakfast Cereal. Just mix all the ingredients up in your breakfast bowl and dig in! This is my weekend breakfast - nothing makes me happier than a bowl of this cereal topped with a splash of cashew milk. (p.s. this cereal reminds me of granola or Alpen.)
Best served with a nut milk, but if you're in a hurry, water will suffice.
Raw Pancakes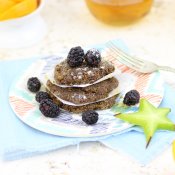 For a special occasion, decadent breakfast or a scrumptious treat, check out my Raw Pancake recipe. Beware, these flaxseed meal based pancakes are extremely filling (read: heavy and rich!).
Top with your fave fruit or berries - bananas, raspberries, blackberries or blueberries - and enjoy!
Raw Vanilla Drop Cookies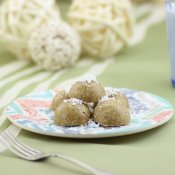 Craving a sweet treat but don't want to make a mess? Then whip up some surprisingly rich Raw Vanilla Drop Cookies! The secret ingredient is tahini, who'd have thought!
Grab one from the freezer for a quick sugar fix!
Raw Chocolate Haystacks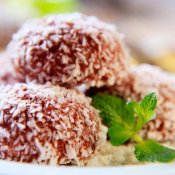 I dare you not to love my Raw Chocolate Haystacks! Coconut and cocoa = the perfect combo. Best kept in the fridge (keeps 'em moist and tasty!).
This recipe makes my Top-Five list because they are so quick and easy... and delicious!
Raw Marinated Mushrooms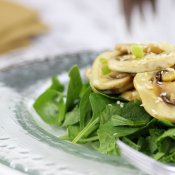 Need a tasty salad-topper or a quick snack? Try my Raw Marinated Mushrooms! Serve on your fave salad for an extra kick. You'll be surprised at how good these little morsels are!
So delicious, yet so simple to prepare!
Raw Salad for Lunch
Need a super delicious 'make and take' salad? Check out the Raw Salad for Lunch. With just 3 ingredients (carrots, tomato and avocado), this salad is surprisingly delicious!
This is a great take-to-work salad as it's both quick and tasty!
So you see...
You can make delicious raw recipes even if you don't have a blender or a food processor.
All you need is a few ingredients and a hearty appetite. No equipment required!